Monday, September 10th, 2012
Large crowd learns about lake fixes
By Nancy Allen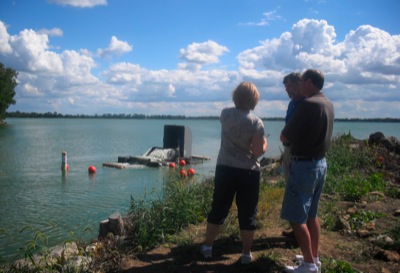 GRAND LAKE - Sunday's drive-it-yourself public tour highlighting activities aimed at improving Grand Lake's water quality was a success, an organizer said.
About 150 people visited each of the eight stops, Nikki Hawk, district administrator/education specialist with the Mercer County Soil and Water Conservation District, said.
"I was extremely pleased with the turnout," she said. "I wanted to see residential, ag and people interested in nature, and I definitely saw that at my stop."
Hawk worked at the Brownhaven Dairy stop, a 250-head dairy on state Route 364 in Auglaize County where attendees learned about various ag practices.
Hawk said this was the first drive-it-yourself tour that combined stops related to both agriculture and the lake watershed.
Toxin-producing blue-green algae blooms on the 13,500-acre lake the last four summers have resulted in state-issued water advisories and millions in lost business revenue. The algae's main food source is phosphorous that runs off mostly farmland in the livestock-rich 58,000-acre watershed.
Various groups, both ag and lake-focused, are working on the problem.
"We came because we're interested in what's going with the restoration of the lake," said Dave Gaerke of Coldwater, who stopped with his wife, Cindy, to see a giant aerator in the lake at the St. Marys Boat Club.
"I know we need ag in our community to feed the masses," Cindy Gaerke said. "We have to work hand-in-hand with them."
Chris Gibbs, executive director of the Mercer County Farm Service Agency and a volunteer at the boat club stop, said people were most interested in what progress is being made to restore the lake and how success is being measured.
He said that depends on what people consider "success."
"If you want no algae crust on the lake, then that was achieved 100 percent this year," he said. "If you want zero toxins, then we have a long way to go."
Hawk said the dairy and the Prairie Creek treatment train on the lake's south side near Aqua View Estates housing subdivision were the two most popular stops.
In all, 20 volunteers staffed all eight site, providing information and answering questions.
Several sponsors provided the more than $2,600 needed to put on the tour. Most of the cost went toward printing 17,000 brochures, which contained a map and photos and explanations of each stop.
Hawk said a volunteer who worked the treatment train stop said many people asked if the tour would be held again next year.
"My thought would be to do it again in two or three years and explore what type of tour we would have, whether it be more of an ag-focused tour or the watershed again," she said.
Other tour stops included Otterbein senior community on the lake where rough fish removal, alum application and dredging was discussed; the Franklin Township Nature Park where 240 acres of land has been restored with wetlands, native grasses and trees accessible by the public; St. Charles Center where numerous ag conservation practices have been implemented; an edge of field and tile monitoring station on Depweg Road; and Mercer Landmark Cooperative's newest facility on Burkettsville-St. Henry Road, which highlighted variable rate technology for managing fertilizer and manure.