Monday, September 10th, 2012
Birkhofer back in victory lane
World 100
By Mike Ernst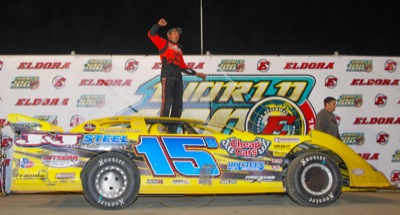 ROSSBURG - In 2002, virtual unknown Brian Birkhofer made one of the most famous passes in dirt late model history when he passed Scott Bloomquist with the "slide job heard around the World" in the final corner of the final lap to win the World 100 at Eldora Speedway.
On Saturday night the duo found themselves in reverse roles. Birkhofer, who had taken the lead when leader Don O'Neal retired with mechanical issues on lap 35, had dominated the event only to have late caution flags bunch up the field, allowing the second-place car of Bloomquist to restart beside him with just 10 laps to go.
"I seen the caution come out and I seen 'zero' (Bloomquist) in second," said Birkhofer of Muscatine, Iowa. "I went down the backstretch (under caution) and I'm warming my tires up, and I actually looked up in turn three at the crowd and I thought, 'man they're getting ready to see something here. It's been 10 years since me and this guy battled.'"
Twice in the final 10 laps, Bloomquist lined up beside Birkhofer with a chance to redeem himself a decade later from one of his most bitter defeats, but on both occasions Birkhofer powered away and then cruised to his second victory in dirt late model racing's most prestigious race.
"I actually felt pretty good," said Birkhofer. "We had a restart and I looked over at my guy on the front stretch and he kind of gave me that sign like I was pulling (away) after a lap. But with Scott it only takes one mistake and he's by you. I gave him what room I needed to give him (on the restarts), and I said, 'Brian, sail that baby in there.' I just didn't want to give Scott that clear run into (turn) three to slide me back."
Since winning the race in 2002, Birkhofer has struggled a bit at Eldora and even contemplated not competing in the race this year.
"I actually contemplated not coming back here for just a year or two until I could come back and compete better," said Birkhofer. "We didn't even make the race last year, so it feels good to get back on top here. Who's to say who would've won this if Don O'Neal don't break, but we'll take it."
Bloomquist, a three-time winner of the event, finished in second place for a remarkable ninth time.
"We have been testing some things here lately that I thought would really work here, but after talking with my guys a little bit, I think we just made one too many adjustments," Bloomquist said. "This place is a lot different than it used to be so we are still learning some things about Eldora, but I think I know what I have to do to be a little better when we come back."
Brad Neat ended the night with a strong third-place finish after running over 150 laps in competition throughout the day (after Friday's portion of the event was postponed until Saturday afternoon). Neat was 90th in the 123-car field after smacking the wall during qualifying, forcing him to run the 20-lap qualifying race, which he went on to win.
Later he finished ninth in his heat race, before charging through the 20-lap, B-main to a second-place finish, qualifying him for the main event.
"Man, I don't know," Neat said about being able to catch either Birkhofer or Bloomquist. "Birkhofer was pretty dang good there at the end. Scott was good, too. It was a privilege to be able to run with those guys. I don't know. I'm just glad to run where we were."
Darrell Lanigan and Jason Feger completed the top five, while Steve Francis, Brandon Sheppard, Eddie Carrier, Jr., Shannon Babb and Michael Chilton completed the top 10.
Heat races were won by Chilton, O'Neal, Billy Moyer, Bloomquist, 16 year-old Tyler Reddick, who became the youngest driver to ever start the World 100, and Chad Simpson, who ran in the top five until lap 93 when mechanical issues ended his night.
The two B-mains were won by Shane Clanton, the winner of June's Dirt Late Model Dream, and Ryan Unzicker. The two B-scrambles were captured by Jacob Hawkins, driving a car sponsored by St. Henry Nite Club and Dennis Erb, Jr.
Local owner Eric Brock saw his driver Jerry Bowersock finish fourth in the second B-main and qualify for the main event. Bowersock, of Wapakoneta, drove a steady race and worked his way from 28th-starting position to a solid 13th-place finish.
But the night belonged to Birkhofer, who not only captured the $45,000 top prize the track awarded, but also a $5,000 bonus offered by a fan, to bring his earnings on the night to $50,000.
"Who would've thought 10 years ago I won and here we are again," said Birkhofer, who became the seventh driver to win the World 100 at least twice in the race's 42-year history. "It feels good to get back in Victory Lane. I'm in awe that I have my name on this (World 100) shirt a second time and I have a new globe trophy to put right by my big TV tomorrow night when I watch the (Pittsburgh) Steelers."
Eldora returns to action with the Four Crown Weekend on September 21st and 22nd. The World of Outlaw Sprint Car Series highlights the Friday night event while the United State Auto Club (USAC) Midget, Sprint Car and Silver Crown Series compete on Saturday night.