Tuesday, September 11th, 2012
Celina one win from WBL title
Bulldogs edge Shawnee 3-2 for 7-0 mark in league play
By Gary R. Rasberry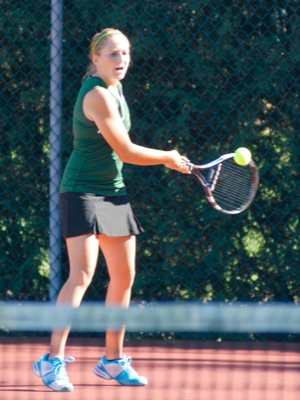 FORT SHAWNEE - As is historically the case, the biggest obstacle standing between Celina and a Western Buckeye League girls tennis championship is Shawnee.
For the fourth straight year, the Bulldogs needed to take down the Indians to stay unbeaten in league dual matches and Celina did just that as the Green and White knocked off Shawnee 3-2 on Tuesday in Fort Shawnee.
Celina is now 7-0 in the WBL and the Bulldogs can clinch at least a share of the regular-season title on Thursday against Kenton. Shawnee drops to 6-1 with the loss.
Brianna Beougher gave the Bulldogs a much-needed spark at first singles as she took on Nora Shaheen in a rematch of last year's WBL tournament second singles championship match. Beougher was the lone winner for the Bulldogs in singles competition as she rolled to a 6-2 and 6-1 victory.
"It was a big win. I just have Ruhe to go against now," said Beougher, referring to Bath's singles standout Emily Ruhe. "I'm glad I got this win. It's a relief. I played really hard and kept it in. I thought it would be a lot closer."
"That was a big win for us. A big match," said Celina's coach Jan Morrison. "Brianna played very well tonight. A big win. (Shaheen) only lost one match (to Ruhe), who we play Monday. That was a decisive win."
Celina's doubles teams struggled but came away with wins to achieve the needed three match wins to clinch the series against Shawnee.
Katie Kerr and Leah Rose got out to a sluggish start in first doubles against Jordan Ward and Tomi Ojo before taking the opening set 6-3. Things were much easier for the Bulldogs' duo in the second set as Kerr and Rose stayed undefeated in league play with a 6-1 win.
"They were able to figure it out," said Morrison of the first doubles team. "Shawnee had double back (both players playing at the backline, rather than one playing up near the net). That kind of got our momentum off. Katie served her way out of trouble at Love-40 (at one point in the match)."
In second doubles, Celina's Brooke Sutter and Kalee Gardner took on Shawnee's Morgan Holloway and Nkiru Anigbogu and the Bulldogs' tandem earned a 6-3, 6-2 win.
"Second doubles were a little erratic, too," said Morrison. "We broke their good server (taking a game while Shawnee was serving). ... That kind of turned it around to take charge of the second set."
In the other singles matches, Miranda Werling took on Isabella Baird in second singles and Baird won 6-2, 6-1. Third singles was the marathon match of the day as Celina's Sasha Jenkins played Shawnee's Anita Kottopalli. Kotopalli won the opening set 6-3 before Jenkins took the second set by the same 6-3 margin. In the final set, Kottopalli outlasted Jenkins 6-4.
OTCA Tournament - Celina will play in the Ohio Tennis Coaches Association's Team Tournament on Sept. 16. The Bulldogs, who had a first-round bye, will make the long trek to Huron, which defeated Bath in a first-round match.