Saturday, September 15th, 2012
Aeration brings channels back to life
By Nancy Allen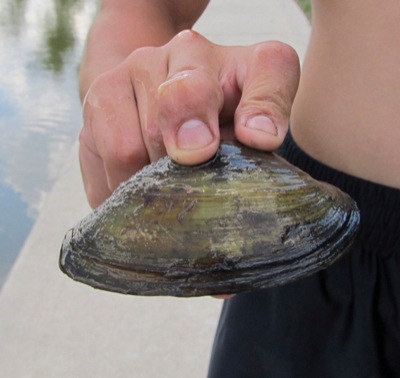 GRAND LAKE - Adding oxygen to dead-end channels on Grand Lake is improving water quality and spurring the return of aquatic critters not seen for decades.
Freshwater clams and gelatinous, blob-like animals called Bryozoa have been found in a Behm's Landing channel that added linear aeration.
Eugene Braig, a fisheries biologist at OSU Extension, said the presence of both creatures is a sign of improving water quality.
"Freshwater clams especially need oxygen down there in that bottom water or they are going to suffocate," Braig, program director of aquatic ecosystems at OSU Extension, said.
Behm's Landing resident Larry Poppe said his grandson caught a huge freshwater clam in his channel while fishing in July.
"We were so excited about it, that there could be that kind of life in our water again," Poppe, who has lived on the channel for eight years, said. "The water in that channel is going the other way again; it's coming back to life."
Poppe said fishing in his channel also has improved with larger and more fish caught.
Worsening toxic, blue-green algae blooms in recent years coated channels with scum and caused more frequent fish kills. The algae depletes water of oxygen when it decomposes.
Homeowners at Behm's Landing began placing barley straw - a natural algaecide - in the channel about five years ago. Bryozoa are growing on the plastic, mesh bags used to contain the straw. The homeowners added aeration three years ago, Behm's Landing resident Jeff Vossler said.
Vossler, who first saw clams in the channel a few years ago, said it had been 40 years since he saw them in lake water.
"We had some (Bryozoa) that were as big as volleyballs," he said.
Bryozoa grow in colonies and are among the most abundant freshwater invertebrates, information from North Carolina State University says. They are found attached to submerged surfaces such as logs, twigs and wooden docks and are present in waters with an abundance of nutrients.
A channel at Club Island also is showing signs of improved water quality. Aeration was added to the channel just more than a year ago.
"I've seen an overall improvement in water quality since it's gone in," Tom Rampe said of the aeration. "I don't get as much scum, and my dissolved oxygen levels are up."
Rampe said he's seen less signs of anaerobic (oxygen-depleted) conditions that are normal for his channel. Before aeration, he had globs of black organic material that could not break down and sulfur-smelling bubbles.
Adding oxygen also reduces the amount of muck on the lake's bottom. Studies show oxygen helps beneficial bacteria grow and consume organic material in sediment.
"The sediment was over a foot deep before we put in aeration," Vossler said. "After we had it in the first year and second year, we took samples and it reduced about five inches each year ... there's very little if any sediment left in the bottom of the channel now."
Behm's Landing resident Joe Lochtefeld and Miles Strand of New Bremen started an aeration business after they began looking into ways to help rid channels of algae. Studies showed that adding aeration to lakes with low dissolved oxygen levels and excessive nutrients improved water quality.
Most homeowners install about 100 feet of the linear aeration tubing, Lochtefeld said. It sits in the middle of the channel on the lake's bottom and emits a continuous stream of tiny bubbles visible on the surface. The system is removed during the winter.
Other known areas with aeration include housing subdivisions at Southmoor Shores and Windmere Bay and a portion of the Miami & Erie canal in downtown St. Marys.
Vossler said the lake's toxic algae problem is big, but aerating residential channels is something individuals can do.
"Everybody's got something they can contribute to this," Vossler said. "When you add up all those small things, it becomes something big."