Saturday, September 15th, 2012
St. Henry hands Minster first loss
By Bruce Monnin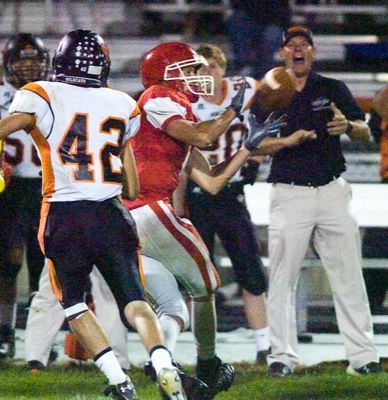 ST. HENRY - Minster and St. Henry each showed periods of dominant play during their Midwest Athletic Conference football contest on Friday night.
The Redskins' period of dominance lasted much longer than the Wildcats' and St. Henry emerged victorious, 35-21, at the Wally Post Athletic Complex.
The first 5:25 of the game belonged to Minster (3-1, 1-1 MAC) as the Wildcats jumped out to a 14-0 lead and gained 113 yards of offense compared to -1 yards for St. Henry (3-1, 1-1 MAC). From that point on, however, the Redskins outscored Minster 35-7, outgained them by 131 yards, ran almost twice as many plays and recovered three Wildcats' fumbles without committing any turnovers of their own.
Minster received the opening kickoff and marched 67 yards in eight plays for its initial score, a Korey Schultz 13-yard touchdown run.
After forcing a St. Henry punt, Minster started its second series at the Redskins' 46-yard line. This time it took just one play as Schultz sliced through St. Henry's defense for the score and a 14-0 Wildcats' lead.
After the fast Minster start, momentum immediately swung over to the Redskins.
On the Redskins' next two possessions they benefited from the arm and the legs of quarterback Kyle Stahl. He ran the ball 11 times for 39 yards and completed seven out of eight pass attempts for 92 more yards. A nine-yard TD run by Matt Osterholt cut Minster's lead to 14-7 and a nine-yard TD reception by Jordan Bender tied the game at 14-14.
Stahl ended up rushing 28 times in the game for 102 yards as well as passing for another 193 yards.
St. Henry appeared to dominate the center of the line of scrimmage for much of its two opening scoring drives.
"We were hoping to be able to accomplish that," confirmed St. Henry's head coach Jeff Starkey. "Minster has such good skilled kids that we decided the best defense would be a good offense."
The Redskins added one more score before halftime as Stahl completed a trio of passes to give St. Henry a 20-14 lead at halftime. St. Henry took over possession on its own 40-yard line and Stahl competed a four-yard toss to Adam Reichert and then hit Jesse Evers for a 30-yard completion before Tyler Schwieterman hauled in a six-yard pass for a touchdown.
"You have to give credit to our kids for not folding," complimented Starkey. "We just stuck to the game plan."
"We were playing a good football team, and we were hot at the beginning. Maybe we lost our rhythm or maybe St. Henry found theirs," added Minster's coach Nate Moore.
There was no scoring in the third quarter as St. Henry hurt itself with several penalties, while Minster's offense sputtered and lost the first of its three second-half fumbles.
Late in the third quarter the Redskins started what turned out to be a 13-play, 71-yard scoring drive. Stahl and Reichert took turns pounding into Minster's defensive line on running plays with a few passes helping to keep the possession alive. Stahl's three-yard touchdown run gave St. Henry a 28-14 lead early in the fourth quarter.
Minster's offense suddenly came back to life as Wildcats' quarterback Adam Niemeyer connected with Devon Poeppelman on a 27-yard touchdown pass to bring the Wildcats back within seven points.
The momentum of the game appeared to be on Minster's side when the Wildcats' defense stopped St. Henry's offense near midfield on the ensuing possession. On the punt, however, the ball bounced off a member of the Wildcats' coverage team and the Redskins recovered the loose ball. St. Henry did not let the opportunity go to waste, with Stahl finding Bender three plays later for the final score of the game.
St. Henry hosts New Bremen next week while Minster will host Coldwater.