Wednesday, September 19th, 2012
Flyers all alone on top of MAC
By Randy Bruns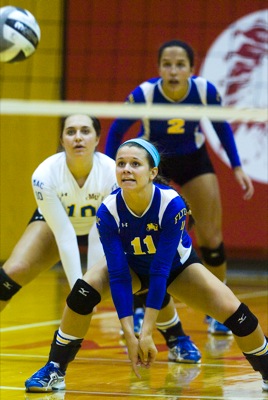 ST. HENRY - As if the annual volleyball battle between Marion Local and St. Henry didn't contain enough drama on its own, this year's edition had a little more intrigue thanks to key missing components on both sides of the net.
Nevertheless, the action on the court lived up to its billing and when the smoke had cleared, the Flyers handed their rivals a 25-19, 16-25, 25-18 and 25-23 defeat.
Marion Local, now 6-1 overall this year, sits alone on top of the Midwest Athletic Conference with a 4-0 league record. St. Henry, 11-3 overall and 3-1 in the conference, is now part of a four-way tie for second in the MAC standings.
The Flyers found out just a couple days ago that senior Josie Winner will be sidelined for another month or so with a broken ankle, meaning the star middle blocker likely won't be back until tournament play begins in mid-October.
On the other side of the net, St. Henry's coach Diana Kramer wasn't on the bench for the first time since she took over the reins of the Redskins in 2010, but the cause was reason for jubilation instead of consolation. Kramer had her second child early Monday morning, so a quick call to the bullpen brought back long-time Redskins' coach Lori Schwieterman for some relief action.
"She was at the hospital at two, had the baby at four, and called me at seven and said 'you're it,'" laughed Schwieterman. "She was about four weeks early, but you can't stop (the baby). The one thing I had told her earlier was please, just don't let it be before the Marion game."
Though both sides were missing key cogs, it was a tremendous night of back and forth volleyball action in front of a frenzied crowd inside Redskin Gymnasium.
Marion took an early lead in the first game and steadily built its lead to eight points when Cadence Jacobs smacked a pair of kills in a four-point service run by Brianna Hess.
St. Henry battled back to within three points at 19-16 on an ace by Nicole Wehrkamp, but Marion Local's Hannah Arling later capped off a long rally with a stuff block to put the visitors back up by five. Arling later ended the opening game when she won a ricochet battle at the net.
The second set started off tight with five early ties, but an ace by Ally Mikesell put the Redskins up 11-8 and their lead would only get larger. Danielle Uhlenhake later stepped to the service line and drilled a pair of aces in a five-point run that put the hosts up 18-10. It was a race to 25 from there, with Mikesell tallying the final point on our fourth kill of the game.
The third game started even closer than game two with eight ties in the early stages. The final tie at 14-14 was broken in the midst of a five-point service run by Claire Heitkamp that gave the Flyers an 18-14 advantage. From that point on the Redskins could not score consecutive points, and the game finally went to the Flyers after a pair of hitting errors by the hosts.
A pair of momentum swings began the fourth game, as the Redskins scored three quick points but the Flyers countered with five of their own. The visitors later pushed their lead to six points before the Redskins climbed slowly back and things got tense.
A kill by Kylie Koesters brought the hosts to within two at 22-20, and moments later Koesters blasted another kill to tie the score at 23-all. A service error then gave the Flyers game point, though, and Hannah Heitbrink ended the night by slamming an errant Redskins' pass to the floor.
"I thought both teams played well," stated Schwieterman. "I thought our serve receive was maybe the best it's been all year and we dug a lot of balls but we just couldn't put it away. Marion also dug a lot of balls and their blocking was phenomenal and we just couldn't put the ball away. We were just a little more inconsistent and they just made fewer errors than we did."
Marion's coach Amy Steininger echoed Schwieterman's thoughts about her squads blocking prowess.
"After they came back and won the second set I was thinking that we'd have a barnburner tonight," said Steininger. "Both teams gave it their all and laid it out on the line. Our blocking was so much better tonight than it's been all year. We did have several stuff blocks but we also got hands on a lot of their hits to slow the ball down and it's so much easier to play defense around that. Our hard work in practice paid off because we've really been working on our blocking a ton."
Heitkamp led all hitters on the night with 17 kills, while Gina Kramer added 10 for the Flyers. Koesters paced the Redskins with 12 kills, but not far behind were Taylor Clune with 11 and Mikesell with 10.
Both teams get back to MAC action on Thursday when Marion hosts Parkway and St. Henry travels to New Bremen.