Monday, September 24th, 2012
Minster captures outright league title with tourney victory
Midwest Athletic Conference Boys Golf Tournament
By Robb Hemmelgarn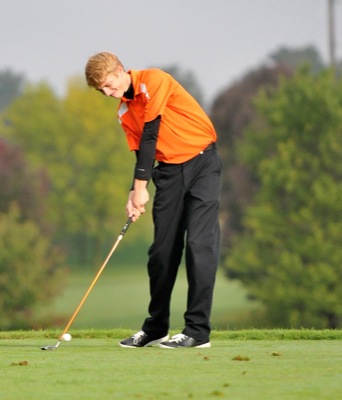 MINSTER - Versailles defeated Minster by a stroke last week in dual match action to create a tie between the Tigers and Wildcats entering Saturday's Midwest Athletic Conference boys golf tournament at Arrowhead.
Jay Purdy's Wildcats were in no mood for sharing as Minster captured the league championship with a seven-stroke victory over the Tigers.
"I couldn't be prouder of the way the boys responded out on the golf course this afternoon," praised Purdy, who took over the program this fall from former head coach Dave Borchers. "Prior to the season, we made our team goals and winning the conference title was one of them."
The Wildcats won the tournament with a team score of 323 and Xavier Francis was the leader for Minster with a round of 78, which was also good for a second-place tie in the overall individual scores. Freddie Purdy (80), John Burke (81) and Josh Tumbusch (84) rounded out the scores for the Orange and Black.
"We executed extremely well today, as we have six or seven kids who have grown into very mature thinkers around the golf course," said Purdy. "We also owe a lot to Coach Borchers, former head coach Mike Griner, as well as all of the golfers who have come through here in recent years. They set the bar and we were able to follow in some great footsteps."
Parkway's Jordan Bollenbacher shot a 77 and won the MAC tournament individual title. The junior's score was a stroke better than Francis, Nick Kayser (Delphos St. John's), Darin Bergman (New Bremen) and Tyler Shreve (New Knoxville), who were all log-jammed as the tournament's runners-up.
"It was a tough day on the course with the weather conditions - the course was soft and it was extremely windy, but as a team we accomplished what we set out to do," commented Bollenbacher. "I was even on the front nine, but began to struggle a little bit on the back nine, and thankfully held on in the end."
Bollenbacher's coach, Mike Schumm, was also pleased with how things unfolded for his squad, which finished third overall and placed four members on the All-MAC list.
"We were in a team grouping with some excellent competition (Versailles, Minster and New Bremen), and it really pushed us all day long," he remarked. "Jordan really stayed focused from start to finish, and he was able to continue what has been an outstanding season to this point,"
Following the Wildcats, Tigers and Panthers in the team standings were the New Bremen Cardinals and St. Henry Redskins in fourth and fifth place, respectively.