Monday, September 24th, 2012
Koesters repeats as the girls Golfer of the Year
Midwest Athletic Conference Boys Golf Tournament
By Gary R. Rasberry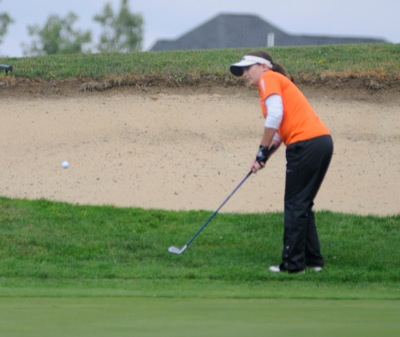 CELINA - As has been the case all season, when all the scores were tallied, Coldwater's Kelsey Koesters was on top of the leaderboard.
The Cavaliers' golfer braved the gusty winds of The Fox's Den and earned medalist honors on Saturday at the Midwest Athletic Conference's girls golf tournament to sew up Golfer of the Year honors for a second straight season.
Koesters, who medaled in each of the Cavaliers' MAC matches this season, was the only golfer to break 80 on the day by firing a six-over 78, four strokes better than Versailles' Brooke Wehrkamp.
Koesters and Wehrkamp were the only sub-90 scores of the day. Minster's Claire Fisher was third with a 92 and the Wildcats' Marissa Conrad tied at 93 with the Tigers' Elizabeth White.
Rounding out the top 10 were Marion Local's tandem of Mindy Puthoff (97) and Kelsey Smith (98), St. Henry's trio of Taylor Koesters (98), Haley Hogenkamp (98) and Kelly Siefring (102) and Versailles' Katie Heckman (102).
"It was fun. I shot well and played well," said Kelsey Koesters. "... It meant a lot to do it again (repeat as Golfer of the Year). There's a lot of good girls that play in the MAC.
"I knew I could play good, but I was happy with what I shot today."
Joining Kelsey Koesters, Wehrkamp, Taylor Koesters, Fischer, Smith, Siefring, Hogenkamp, Conrad, Puthoff and White on the first team All-MAC list were New Bremen's Mackenzie Howell and Versailles' Danielle Cochran.
Versailles, which ran the table in conference dual matches during the season, made it a clean sweep for the overall title after winning the tournament crown with a 308. St. Henry was second at 402 with Minster finishing third via the tiebreaker with Marion Local after both teams shot a 423. Coldwater shot a 435 with New Bremen a 458. Parkway did not field a full team.
The MAC teams, minus Versailles, return to The Fox's Den on Tuesday for the Division II sectional tournament. Teams will tee off from the first and 10th holes starting at 9 a.m.