Thursday, September 27th, 2012
Springfield Museum of Art honors living local legend
Pieces came from the Smithsonian, other museums and private collections
By Eric Adams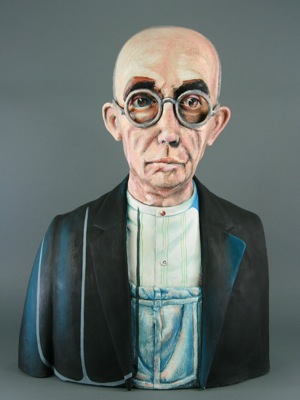 SPRINGFIELD - An exhibit at the Springfield Museum of Art will highlight an Indian Lake ceramic artist and former New Bremen elementary teacher who achieved national acclaim but never abandoned his small-town roots.
Jack Earl: Modern Master - A Retrospective opened Saturday and will run for three and a half months.
Museum curator Charlotte Gordon said the exhibit marks the first in the region that will focus exclusively on Earl's art and the first anywhere to showcase his entire career.
The 78-year-old artist is still active and has produced ceramic pieces prolifically since 1968; therefore, compiling a chronological collection for the event was not easy, Gordon said.
Earl has been honored by the Smithsonian Institution, and some of the pieces are part of the national museum's collection.
Of the 100-plus pieces in the Springfield show, four came from the Smithsonian. Other works arrived from museums as far away as Syracuse, N.Y., and Racine, Wis., and many also came from private collectors and members of Earl's family.
"(This exhibit) is three years in the making," Gordon said.
Still, Gordon feels the effort was more than worthwhile.
"Each of (Jack's) series has its own timeline, so it's interesting to see how they all influence each other," she said.
Gordon, who has examined Earl both as an art student and museum curator, pointed to many elements of his uniqueness.
In 1976 he became the first "artist in residence" at the Kohler factory near Sheboygan, Wis., which specializes in the plumbing-related industry. It was his time there that fostered his use of porcelain in lieu of rougher molding materials.
"Porcelain is a very different clay body," Gordon said. "The particles are very fine and can hold a fine detail."
That influence appears in the neatly-grooved faces of Earl's characters.
Such fastidious attention to detail also is typical of 18th century European sculptures, which Earl studied extensively while teaching at the Toledo Museum of Art. However, Earl almost always incorporated humor into his works unlike the serious, austere artists who had inspired him.
He was rarely swayed by popular artistic influence and portrayed folksy, often bizarre narratives inspired by his heartland upbringing, Gordon said.
Another notable element of Earl's art is its larger-than-life scale. His compilation currently occupies three entire galleries at the Springfield museum and includes a variety of statues and busts that either match or exceed human size. The largest of the sculptures stands 6 foot, 8 inches, Gordon said.

Exhibit:
What: Jack Earl: Modern Master - A Retrospective Art exhibit
Where: Springfield Museum of Art, 107 Cliff Park Road, Springfield
When: Now-Jan. 6
Details: Free admission at the museum on Saturday; Nov. 3 - 10 a.m. workshop with Earl making ceramic pieces and discussing his methods and inspirations, register by Oct. 31; Dec. 5 - Curator's Tour.
For more info: 937-325-4673 or smoa@springfieldart.net