Saturday, October 13th, 2012
Big first half carries Wildcats over Indians
By Bruce Monnin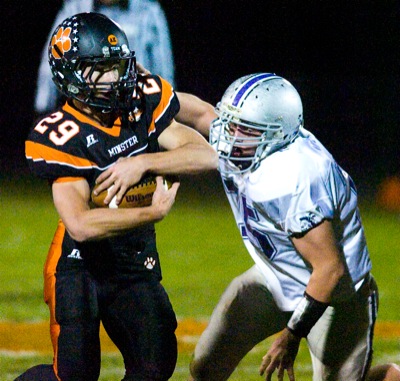 MINSTER - The Minster football team took advantage of every first-half opportunity to jump out to a 28-0 halftime lead over Fort Recovery. But when the lights at Minster's Memorial Field were turned back on after the band's Homecoming show, the Wildcats' offense sputtered in the second half of a 28-6 victory over the Indians.
"Our first half looked good," said Minster's coach Nate Moore. "We need to be able to close a game out on our terms. We didn't get that done."
Both teams moved the ball well in the first half. Fort Recovery averaged 42 yards on each of their four drives, but were unable to score. One drive ended in an interception and two others ended when the Wildcats' defense stopped the Indians on fourth-down plays.
Minster was able to finish off two long drives in each of the first two quarters, without spending much time on the field. On their first drive, it only took three plays before senior running back Korey Schultz broke free for a 43-yard scoring run. A blocked extra point left the score 6-0.
The Wildcats started their second drive with a 33-yard pass from Adam Niemeyer to Ethan Wolf. Four plays later, Niemeyer found Kurtis Thobe, who did a nice job getting both feet in bounds for a 22-yard touchdown. A two-point conversion gave Minster a 14-0 lead at the end of the quarter.
Early in the second period, it only took the Wildcats three plays to make the score 20-0. Once again it was Schultz with the long touchdown run, a 77-yard sprint along the Indians' sideline.
Fort Recovery's ensuing drive ended when Minster's defense stopped the Indians two yards from the end zone on a fourth-down scramble by quarterback Mason Evers. The Wildcats followed the defensive stand with their longest drive of the night. Minster used 11 plays to cover 98 yards with Niemeyer scoring on a 15-yard quarterback draw for a 28-0 lead at halftime.
Both offenses struggled to complete drives in the second half, but the Indians prevented the shutout late in the fourth quarter. A 26-yard run by Kyle Timmerman moved the Indians into Wildcats' territory before Evers completed a 25-yard touchdown pass to Trent Kaiser.
Schultz had a big night rushing for the Wildcats as the senior had 18 carries for 176 yards and two scores. Niemeyer tacked on another 221 passing yards after completing 14-of-22 passes. His favorite receiver was Devon Poeppelman, who hauled in seven catches for 106 yards. Evers was the offensive leader for Fort Recovery's offense, gaining 129 rushing yards on 21 carries and passing for another 99 yards.
Minster (6-2) travels next week to face Versailles while Fort Recovery (3-5) returns home to host St. Henry.

Correction:
Original headline read "Big first half carries Wildcats over Panthers"