Saturday, October 13th, 2012
Anna slips past New Bremen
By Mark Ruschau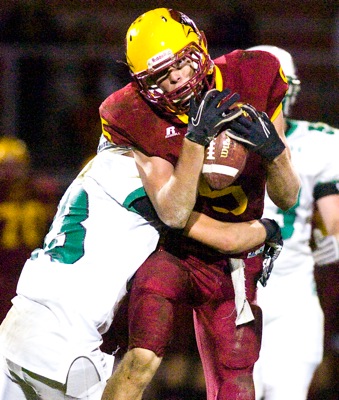 NEW BREMEN - The Anna Rockets used a steady dose of running back Christian Williams and some timely plays on defense and special teams to defeat the New Bremen 21-13 on Friday night in Midwest Athletic Conference action at New Bremen High School.
Williams, a 5-9, 218-pound sophomore, shredded New Bremen's defense for 318 yards on 31 carries and scored two touchdowns. The Rockets totaled 377 yards on the ground on 46 carries.
New Bremen (2-6 overall, 2-4 MAC) got the scoring underway by taking the opening kick and marching 63 yards in eight plays for a score. David Zirkle ran for a four-yard touchdown to give the Cardinals a 7-0 lead after Trey Naylor's PAT kick.
Anna (4-4, 2-4 MAC) answered with a touchdown drive of its own on the next series by covering 67 yards on seven plays with Williams covering the final three for the tying score. Williams had a 33-yard run to high light the drive.
"We made big plays in certain situations when we had to make them," said Anna's coach Bryan Rioch. "We had three interceptions and a blocked extra point when we needed it. It was not our best game but you have to give New Bremen a lot of credit for that.
"We blocked well tonight and I think that was one of the advantages that we had coming into the game, we were bigger than they are," continued Rioch. "Christian is as big as a lot of our linemen. He is surprisingly athletic, he is light on his feet and he can run over people when he has to."
"Our effort tonight was phenomenal, it was all we could ask for," said New Bremen's coach Jason McGaharan. "We just fell short, we made mistakes, we shot ourselves in the foot and you cannot do that against a good team like Anna."
The final 17 minutes of the first half were consumed by two long drives, one by each team that produced no points. Taking over on their own 25-yard line with 34 seconds left in the first period, New Bremen took over four minutes off the clock and moved the ball to the Rockets' 35-yard line. However, the drive was halted when Anna's Nick Doseck picked up a pass.
Taking over at its own 18-yard line, Anna took 8:14 of the clock and drove to New Bremen's 14-yard line, but the drive stalled and the Rockets' Shaun Wenrick missed wide left on a 30-yard field-goal attempt.
After the two teams had empty drives to start the second half, Anna took over at its own 19-yard line and marched 81 yards on eight running plays with Williams sprinting for an eight-yard score that put the Rockets on top 14-7.
New Bremen came right back and drove into Anna's territory at the 23-yard line but he drive ended when the Rockets' Carter Bensman picked off a Garett Westerbeck pass.
The Cardinals returned the favor four plays later as Parker Manger picked off Josh Robinson at the Anna 35-yard line. This time New Bremen was able to cash in as the Cardinals covered 35 yards in two plays with Alex Speelman scoring from 13 yards away. Anna than came up with a huge special teams play as it caved in the center of the Cardinals' line and Ian Douglass blocked the PAT kick to keep the score 14-13.
Once more the Rockets answered as they drove 79 yards on seven running plays with Matt Lindsey going the final eight yards for the insurance score.
New Bremen hits the road next week to face St. John's while Anna travels to Marion Local.