Monday, October 15th, 2012
Breakfast on the go
First Donut Dash a sweet success
By Eric Adams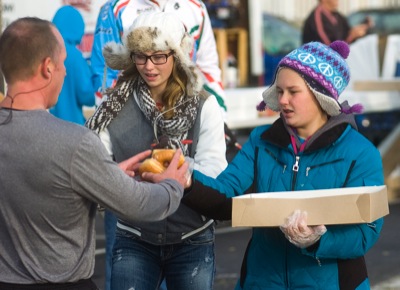 CELINA - For some, nothing starts a fall morning like a fresh donut from the local bakery. For others, a brisk run might do the trick.
Roughly 400 did both - at the same time - on Saturday.
Celina's first Donut Dash, a 5K that gives runners a time advantage for eating and running, was brought to the area by the nonprofit athletic group Rocketship Sports Management. Roger Bowersock, president of the Greenville corporation, said the idea stemmed from an existing bike event, The Tour de Donut.
The down-and-back 5K course began at Mercelina Park and traveled West Bank Road with two donut stops along the way. Each glazed donut eaten at the station erased two minutes from a runner's time.
Crossing the finish line well before anyone else was Kyle Minnich, a 38-year-old veteran runner and Celina resident. His time was 19 minutes, 20 seconds with three donuts eaten, resulting in an adjusted time of 13:20.
"I've done many 5Ks and marathons and just thought I'd try something different," he said. "The donuts weren't small, not those little holes."
Minnich said he smashed the plump pastries flat and ate them like a sandwich, which Bowersock cited as a popular technique among Tour de Donut cyclists. However, Minnich drastically underestimated the appetites of his opponents.
The race winner was Worthington resident Chris Capoccia, who ran a casual 33-minute race but stomached an astounding baker's dozen. His donut adjusted time was about 7 minutes, 30 seconds.
One Troy-area couple found the dash to be an appetizing compromise.
"(Running 5Ks) was on our bucket list," said Angela Rowlands of Tipp City. "It took us two years (of training), but we finally did it."
"This works. She wanted a 5K, I wanted donuts, life is good," her husband, Chris, said.
Coy Boroff, a donut station volunteer from Greenville, said the most consumed by a male runner Saturday was 15. The female record was one dozen.
Miraculously, Boroff said he didn't see anyone get sick.
"I think it's a little easier to bike after you eat all these donuts than run," he said. "It's just such a different (fun) event, usually running a race is a lot more serious."
JB Pastries of St. Marys supplied 200 dozen donuts for the event.
Celina Mayor Jeff Hazel, who attended but didn't participate, said he hopes the dash becomes an annual event.
"It generates an awareness of physical activity, but it also (helps people) have fun," he said.
Bowersock, who noted the Tour de Donut has grown from 100 to 1,350 participates in five years, said he hopes future Donut Dashes will have live music and various door prizes.
"There are a lot less people who ride their bikes than (there are) runners," Bowersock said. "We expect (the Donut Dash) could grow a lot faster."