Wednesday, October 17th, 2012
Indians open postseason with a dramatic victory
By Mark Ruschau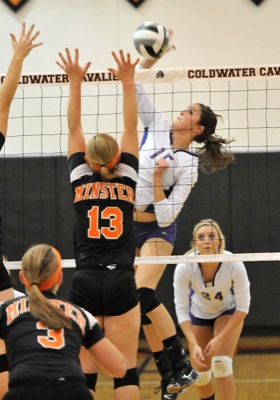 COLDWATER - It was magical postseason opener for Fort Recovery's volleyball team on Tuesday night as the Indians rallied from down two games to one and from a five-point deficit late in the fourth game to outlast the Minster Wildcats 23-25, 25-21, 15-25, 25-22 and 15-12 at the Division IV sectional tournament at The Palace in Coldwater.
Fort Recovery (9-14) advances to the sectional final on Saturday at 6 p.m. and the Indians will take on top-seeded Marion Local (19-4), the top-ranked team in the state according to the D-IV coaches' state poll. Minster bows out of the tournament with a record of 12-11.
"One of the things that we have struggled with this season was coming back from a deficit and tonight we wanted it so bad and I never saw such determination from my girls than I did tonight," said Fort Recovery's coach Kylie Huelsman. "The difference in the last two games was that we moved better defensively. In the third game, they tipped the ball and we did not get there and in the last two games, we moved our feet and we were just determined to get to every ball."
"We were on a rollar-coaster all night and we just did not demand enough out of each other," said Minster's coach Cami Lefeld. "It was a common component throughout the match that Fort Recovery wanted it more. I thought we were prepared but when it came down to it, they just wanted it more."
Trailing 20-15 in game four, the Indians got a point off a service error and a service winner from Sierra Pugh to cut the deficit to 20-17. After a block by Minster made the score 21-17, The Indians got a kill and a block from Cassidy Rammel and a pair of aces from Emily Link to tie the score at 21.
After a Minster timeout, Fort Recovery quickly moved to match point at 24-21 after kills by Rammel and Tori Lennartz and another service winner by Link. After another Minster timeout, Link served the ball wide to make the score 24-22, but Rammel quickly ended the game as she blasted a kill to the floor.
After a Regan Hahn service winner gave Minster a brief 1-0 lead, the Indians rattled off seven of the next eight points for a commanding 7-2 lead. During the run, Rammel had a pair of service winners, Hannah Kaup had a service winner and a kill and Lennartz also had a kill.
Minster did not go away quietly however, as the Wildcats scored nine of the next 12 points to take their first lead of the game at 11-10 after a kill by Sara Hosey.
The Wildcats took their last lead of the game at 12-11 on a tip by Morgan Kaiser before Fort Recovery took advantage of two Minster errors to take the lead for good at 13-12. Indians' libero Kelsey Fiely pushed a ball cross court into an open corner to give her squad match point before Rammel ended the drama with a tip.
Huelsman is hoping to carry the momentum from a five-game win into Saturday's matchup against the top-ranked Flyers.
"We are really excited to play Marion on Saturday and show people that we have a program that deserves to be at that high level. It is going to be tough, but I think we have improved and we can compete," said Huelsman.