Thursday, October 18th, 2012
Schools get high ratings
Grand Lake area
By Eric Adams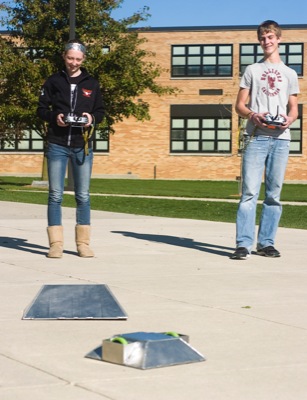 Results for local school districts were mostly sterling on the state report cards released Wednesday by the Ohio Department of Education.
All but one of nine area schools received excellent or excellent with distinction ratings on the state review for last school year. One school bumped up a rating, five remained the same and three dropped one level.
The only school to earn the top rating - Excellent with Distinction - was Celina City Schools. This is its third year getting the top mark.
"To earn an excellent with distinction mark, we have to show that our students have achieved more than a year's worth of academic growth," curriculum director Curt Shellabarger said. "We set high expectations for our staff, and they set high expectations for students."
St. Marys City Schools made a small leap upward, earning an Excellent ranking as opposed to their mark last year of Effective.
"Obviously, the staff has worked diligently, and I commend their efforts," first-year superintendent Shawn Brown said.
Taking a step down was Parkway Local School, which earned an Effective rating in lieu of last year's Excellent. Superintendent Greg Puthoff could not be reached for comment this morning but earlier this school year indicated he was confused by what his district's rating would be.
At that time, he learned the school did not meet the state's value-added growth indicator, which measures educational growth from one year to the next.
"I can't figure out how we get our scores, and no one at the state can tell me," he said last month.
Puthoff said the elementary and middle schools individually met the expected growth, but the two combined as a district did not.
"That's what doesn't make sense to me, but that's just what happens," he had said.
Minster and Fort Recovery schools both dropped from Excellent with Distinction last year to Excellent this year.
John Charlton, spokesperson for the Ohio Department of Education, said that attainment of the state's highest ranking depends heavily on district improvement.
"You have to (at least) meet or rate above value-added to earn the excellent with distinction marking," he said.
New Bremen was one of the districts to maintain the same ranking, Excellent, as last year.
First-year New Bremen High School Principal Brian Pohl is pleased with this year's outcome but wants to see even more improvements in the future.
"Being new here, the thing I've noticed is that we don't teach to these (OGT) tests," he said. "They are an indicator of what students need as a minimum; where we're at on the tests is great, but that's not our end-all goal."
The state ranking system for schools is a multi-faceted process that takes into account social and economic demographics, qualifications of teachers, OGT and ACT scores and attendance ratings.
The report cards were delayed this year due to a pending investigation into falsification of attendance data by certain districts in the state. The report card usually is released in August.
Because of the controversy, the data released Wednesday is still regarded as preliminary. ODE said it released the information so the public would be aware of district rankings as the November election approaches.
District Name
2011-2012 Designation
2010-2011 Designation
Standards Met (of 26)
Performance Index Score (of 120)
Value Added
Federal Measure
Mercer County
Celina City School
Excellent with Distinction
Excellent with Distinction
25
100
Above
Not Met
Coldwater Exempted
Excellent
Excellent
26
107.6
Met
Met
Fort Recovery Local
Excellent
Excellent with Distinction
26
106.1
Met
Not Met
Marion Local
Excellent
Excellent
26
109.6
Met
Met
Parkway Local
Effective
Excellent
26
102.8
Below
Met
St. Henry Consolidated
Excellent
Excellent
26
107.6
Met
Not Met
Auglaize County
Minster Local
Excellent
Excellent with Distinction
26
109.5
Met
Met
New Bremen Local
Excellent
Excellent
25
105.3
Met
Met
St. Marys City School
Excellent
Effective
26
101
Met
Not Met
Source: Ohio Department of Education