Thursday, October 18th, 2012
Celina opens tourney with revenge victory
Division II Sectional Volleyball at Lima Senior
By Ryan Hines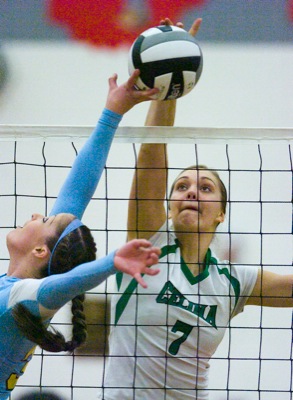 LIMA - Wednesday's Division II sectional semifinal volleyball matchup at Lima Senior High School was all about revenge for Celina.
The Bulldogs were still stinging from a loss against Bath to close the regular season last week, but Celina returned the favor to open the postseason with a 25-21, 25-15 and 25-23 sweep over the Wildkittens. Celina will now face Shawnee on Saturday at approximately 4:45 pm., following the opening game which features Van Wert against Defiance starting at 3:30 p.m.
Celina (13-10) suffered a 25-18, 25-19 and 25-15 loss last Thursday at Bath (8-16) and the defeat was clearly motivation for what transpired in Wednesday's rematch.
"Last week's loss to them was eating at me in a big way, and for the girls too," admitted Celina's first-year head coach Amy Sutter. "We really focused this week on being positive and focusing our energy forward on what we need to do next. We came out ready to put them away tonight. We were looking for revenge after we played so poorly last week. Tonight was redemption for us."
The Bulldogs certainly played like a team that was looking for revenge.
"Losing last week was tough and we wanted to come out tonight and play the way we are capable of playing and get some revenge," said Wenning, who had a match-high 16 kills. "We have worked hard the last few practices and I think it showed on the court."
Bath jumped out quickly in the opening game as Kirsten Davis and Brianna Smith provided the Wildkittens with some potent offense for a 12-6 lead. Mackenzie Dzendzel and Beth Homan then provided the game-changing spark for Celina. Dzendzel served up three aces and Homan connected for four kills to ignite an 11-point run that left the Bulldogs with a 17-12 advantage. Bath rattled off three aces and eventually pulled to within 21-20, but Michaela Wenning hammered home three kills and Madison Weininger capped the opening game with an ace.
"We were struggling on serve-receive and they were serving tough. We're usually strong at serve-receive, but not tonight," said Bath's first-year head coach Kelsey McCluer. "I told the girls that they had to know Celina was going to come out looking for revenge and they did."
Wenning's strong finish to the opening game carried over to the second game for Celina as the junior middle-hitter blasted six kills to help the Bulldogs to a dominating 25-15 win. Celina was up 13-7 when Wenning connected for four straight kills to give the Bulldogs a double-digit lead from which the Wildkittens never recovered.
"Michaela is our go-to girl on the court and she did a great job tonight," said Sutter. "She put the ball away for us when needed her to and she played as a leader."
"We did a really good job last week blocking, but tonight we were really off," said McCluer. "She (Wenning) dominated tonight and that killed us."
Bath didn't let the disappointment from losing the first two games linger in game three as the Wildkittens built a 15-9 lead with the help of Davis' hitting and Jasmine Tribble's serving (two aces).
Celina's Emily Dorsten then stepped to the service line and guided the Bulldogs to a 16-15 lead after a pair of aces and kills by Wenning and Beth Goettemoeller. Bath recovered and led 21-20 before Celina closed strong with a 5-2 run as Homan, Weininger and Wenning each had a kill down the stretch.