Tuesday, October 23rd, 2012
French lesson
Celina faculty mark revolution with display
By Eric Adams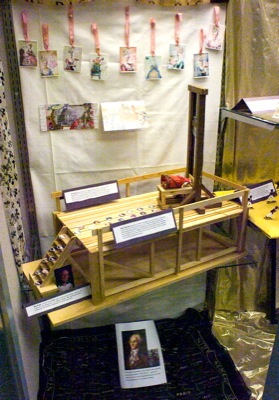 CELINA - The last recorded execution by beheading was in Paris during September 1977. Recently, two Celina High School faculty members revived the antiquated form of capital punishment to amuse students.
A 1/10th-scale replica of a guillotine stands on display near the high school media center thanks to research by French teacher Marcia Smith and construction work of semi-retired teacher Jon Clouse.
"Years ago (when) I used to teach in Maryland, a kid did a miniature guillotine as a project," Madame Smith said. "It was fun; sort of a conversation piece in the classroom."
Smith knew media center specialist Sheila Baltzell frequently sought new content for her display case and figured a guillotine could be the piece de resistance for a French Revolution-themed display.
"I had quite a lot of (French historical) pictures and a Marie Antoinette doll," Smith said.
She also purchased several model soldiers online that represent both the French Foreign Legion and fighters from the Napoleonic wars. Antoinette lies beheaded in the guillotine to acknowledge her actual execution almost 220 years ago. 
The items were put on exhibit this summer and will remain in place throughout the school year.
Clouse, who taught computer-aided drafting for 28 years at Tri Star Career Compact before retiring last spring, primarily has built end tables and dressers.
"Building scale models isn't really my thing," he said.
However, anyone who views the display up close likely wouldn't believe him. The guillotine is assembled meticulously to scale, complete with a platform, steps and support beams. The only detail Clouse had to neglect was a weighted metal blade.
"When I scaled (the model) down, the blade weighed about 10 pounds," he said. "I didn't want anyone cutting their fingers off."
An average guillotine stands 12-15 feet tall, with a blade weighing at least 80 pounds, according to Smith's research.
To avoid any potential injury, Clouse fashioned a blade from wood and painted it silver.
"I wasn't expecting anything quite as elaborate as what he did," Smith said. "He wanted to make it very authentic and put a lot of time into it."
Clouse said the project, finished during the summer, was his first in his new home wood shop.
"(My home shop) overlooks my pond; it's just a great place to relax," said Clouse, who is teaching half days at St. Marys Tri Star this school year.
He was particularly fascinated with the guillotine's dimensions. The extreme height of the device and density/weight of the blade ensured that executions were immediate and that no one suffered, he said.
Dr. Joseph Guillotin pioneered the concept in October 1789 during the French Revolution as a more humane method of execution. Previously, axe-wielding executioners performed the majority of beheadings, and criminals did not often die on the first blow.
Both faculty members feel the display is a valuable learning tool for students.
"It's partly decorative ... I hope that people will learn from it," Smith said. "(This project) isn't exclusively for my students; it's also to promote the French language."
Also included in the display are informational cards that detail France's role in the American Revolution, the military career of Napoleon and the life of Joan of Arc.