Thursday, October 25th, 2012
Gridiron girl
Minster wide receiver, kicker achieves goal to play football
By Margie Wuebker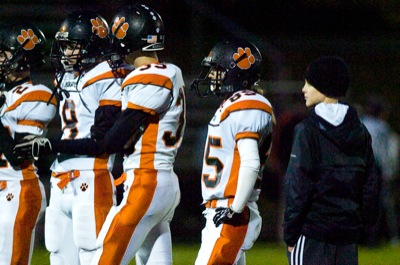 MINSTER - Most high school football players overshadow the 5-foot-7-inch, 130-pound Minster Wildcat. What makes the wide receiver and kicker stand out is the blonde ponytail protruding from her helmet.
Junior Alexis Sharp doesn't care about blazing a new trail in school history; she just loves playing football.
"Sure I'm a girl but I don't want to be treated any differently," she said. "The guys on the team are like brothers, and we work together as a family to win games."
The 17-year-old recalls playing football with the boys during recess and after school. Not one to sit still, she logged countless hours tossing and kicking the pigskin in the backyard.
"I used to sit in the stands and long to be down there on the field," she said. "Taking a mission trip to Haiti this summer put my life into perspective. No one could make football happen but me."
The opportunity came when she saw varsity football coach Nate Moore at a grocery store and told him of her desire.
"He looked rather surprised and then he told me to get busy lifting," she said with a laugh. "I stepped into the weight room the next morning at 5:30 and every set of eyes burst wide open."
A chorus of "what are you doing here?" wafted through the room, she recalled. She simply told the boys, "I'm getting ready to play football."
Having already earned the support of her parents, Tom and Tina Sharp, she set out to earn the approval and respect of teammates. Some expected her to drop out once two-a-day practices began.
"Tackling was part of the drills," she said. "I got up after the first hit, knowing a lot of the guys are bigger than me and I had to work through and around them."
Players initially had reservations about hitting a girl, but she addressed the matter directly.
"Yeah, I'm a girl playing football," she said. "The only way to make me better is to push me. They began treating me like a brother from that point on."
She also has earned the respect of school officials.
"There is definitely a learning curve as a first-year player, but Alexis never shies away from drills even though she's usually out-sized," Moore said. "I'm impressed with her ... she's tough enough to stick with the program. She's one of the guys except for the ponytail."
Sharp, No. 85 on the junior varsity team, has seen some varsity action because everyone dresses for Friday night games. As for first-string status next year, Moore said everyone begins a new season with a clean slate and earns the right.
Athletic director Josh Clune also is impressed with what he's seen thus far.
"She is definitely a go-getter who expects no favors," he said. "The only concession has been to allow her to dress in the volleyball locker room here and in restrooms or coach's offices at away games."
Senior player Alan Tebbe has no qualms about having Alexis on the team.
"She's a hard worker just like the rest of the team," he said.
Freshman Reed Frick agreed.
"I think it's great ... this just goes to show that anyone who really wants to play has the opportunity at our school," he said.
Sharp has suffered a concussion in one game, aggravated a previous shoulder injury in another and earned plenty of what she called "sweet bruises."
"The longest I've been out is two weeks," she said. "I longed to steal somebody's pads at the Parkway game and play in the mud."
Her only regret is not going out for football in junior high, but she is making up for lost time.
"There is a lot of passion in football ... if you want something bad enough and work hard enough you can achieve it," she said. "The coaches and the team gave me a chance, and it's up to me to prove I can play no matter my size or strength."
She hopes being the first girl on a Wildcats team will encourage others to pursue their own interests.
Tim Stried, director of information for the Ohio High School Athletic Association, sees females on the gridiron as part of a growing trend. In 2008, 10 girls played on high school teams throughout the state with the ranks swelling to 25 in 2011. He anticipates the number to be even higher when this year's statistics come in at the end of the season.
As for the future, Alexis plans to enroll in the ROTC program at Xavier University following graduation. She is uncertain about a major. The school has no football team, but she is considering rugby.