Thursday, October 25th, 2012
Cavaliers will take on Titans for district title
Division III District Volleyball at Kalida
By Gary R. Rasberry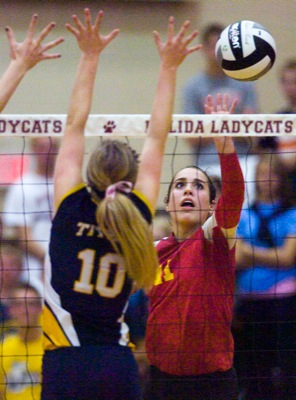 KALIDA - Coldwater recovered after a slow start in the first game against Liberty-Benton and won the final three games to advance to the Division III volleyball district final with a four-game win on Wednesday at Kalida High School.
The Cavaliers (18-7) will face Western Buckeye League champion Ottawa-Glandorf at 6 p.m. on Saturday for a berth to the Findlay regional. The Titans (20-5) were pushed to the limit against New Bremen before winning in five games.

Coldwater 3, Liberty-Benton 1
The Eagles (21-3), ranked 13th in the last state poll, pulled away from the Cavaliers in the opening game on a strong service run by freshman Brooke Hoehne, who served up two aces during a six-point run that put Liberty-Benton up 18-14. Coldwater got no closer than two points the rest of the way as the Eagles won the first game 25-19.
The Cavaliers, who beat the Eagles in the first match of the season at the Cavalier Spike-off, got their offense on track in game two as Macy Reigelsperger began to find the mark on her spikes. Lauren Leugers helped out with a couple of aces on a six-point service run to push Coldwater to a 25-16 win.
"Liberty-Benton just blocked us," said Cavaliers' coach Mike Etzler. "We were out of system a lot in the first game. We didn't serve receive well and they served us tough. We didn't play well, went into our hole. Then we fixed it."
Game three was back and forth. Liberty-Benton rallied from down as many as four points to take 14-13 lead, but the Cavaliers came back and the teams stayed within a point or two the rest of the way. The Eagles had game point at 24-23, but Reigelsperger hammered home a kill to tie the game. Kim Hosbach then went to serve and the Cavs got a point off an Eagles' hitting error for game point. Emily Kahlig then blasted a kill to give the Cavaliers a 26-24 win and a 2-1 advantage in the match.
"That third game was critical," said Etzler. "That was huge. Tonight was all-or-nothing when it came to serves. I felt like we missed too many. I would like to see our ace-to-error (ratio), because I felt like we missed a lot of serves, but we had to pick it up to be more aggressive, which we did."
Coldwater stayed hot in the final game, jumping out to a 4-1 advantage. The Eagles pulled to within 6-5 before Hosbach served up three straight aces to put the Cavs on top 9-5. The serving stayed strong for the Cavs as Leugers, Brooke Welsch and Kelsey Rammel each served up aces to give the Cavaliers a 20-13 lead and the Eagles failed to get any closer than three points the rest of the game. With Whitney Schaefer serving, Reigelsperger had two kills sandwiched between an Erika Hartings stuff block to close out the match.
"We haven't been here (district finals) since 2005, maybe. It's the first time for these girls," said Etzler. "It's a huge step for us."
Reigelsperger had 10 kills and Hartings adding eight kills with four blocks while Leugers served seven aces.
Ottawa-Glandorf 3, New Bremen 2
If anyone thought that New Bremen was just happy to be playing in the district semifinals for the first time in several years, the Cardinals proved otherwise. Meagan Brandt served up five straight points to put the Cardinals out in front 9-4 early. The Titans (20-5) were hampered by short service rotations and New Bremen picked up a 25-17 win in the opening game.
The Cardinals' hot streak continued to start game two as New Bremen led 4-1 early, but the Titans began hammering away to take an 11-8 lead. The game went back and forth with the Cardinals holding match point with a 24-23 lead, but a New Bremen hitting error tied the game. The Titans were able to get game-point twice before the Cardinals managed a tie. Finally at 26-25, Kristi Jerwers served up an ace to give O-G a 27-25 win to tie the match.
"We knew coming in that O-G was a solid, very good team," said Cardinals' coach Theresa Jenkins. "We knew we had to bring our A-game, and I think we did, then it slipped and got it back. It was just a fight. At times, it was a game of who made the least amount of errors."
Another close battle in game three had the Titans winning 25-21, but in game four the Cardinals rode the hot hitting of Victoria Wente and Steph Brandt, who combined for eight kills, to force a fifth and deciding game after a 25-20 win.
O-G had a 2-1 lead when Kaela Croy stepped to the service line and hammered two aces as part of a four-point run to put the Titans on top 6-1. New Bremen fought back and was down 11-10 before Anna Bellman got a kill to put the Titans back up by two points. The Cardinals were able to get the serve back on the Titans' match point, but a long serve out of bounds ended the match, 15-11.
"That fifth set, we got too far behind at the beginning," said Jenkins, whose team ends the season at 13-12.
"My goodness gracious, I don't know how to explain it," said Titans' coach Ann Ellerbrock. "The first game, we were a little flat, missed a few serves. Had to go to the fundamentals of passing and serving to keep us in the game. Great matchup. Both teams well-coached, good athletes. What a game."