Saturday, October 27th, 2012
Celina edges Bath for seventh victory
Bulldogs' Knous stops Wildcats short on potential go-ahead two-point conversion
By Ryan Hines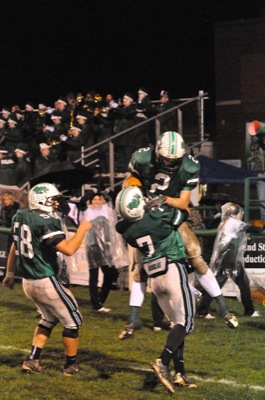 CELINA - The offense, defense and special teams all played key roles for Celina's football team on Friday night as the Bulldogs edged Bath 42-41 in Western Buckeye League action.
Quinn Giesige blocked a punt to set up a go-ahead Wyatt Jackson touchdown reception before Jalen Knous made a game-saving tackle with just 27 seconds remaining in the game.
Bath was at its own 19-yard line facing a fourth-and-16 with 8:07 on the clock in the fourth quarter when Celina struck gold on special teams. Giesige ran over a Bath blocker and managed to block Bath's punt with Celina recovering the ball on the Wildcats' six-yard line.
Celina's quarterback Braden Billger then faked a hand off on the first play of the ensuing drive to running back Zach Hembree and rolled out to pass on a bootleg. Billger was sprinting for the end zone before tossing a six-yard TD pass to Jackson in the back of the end zone on a crossing pattern for a 42-35 Celina lead.
"The biggest play of the game was the blocked punt that gave them great field position and then they score right away," said Bath's head coach Chris Miller. "We blitzed right into that bootleg, but he lost his footing and the cornerback had to come off the receiver to get the quarterback and the QB dumped the ball off for a touchdown."
Celina's Brandon Hoffman then recovered a Bath fumble on the ensuing possession but the Bulldogs had a three-and-out on offense and punted the ball back to the Wildcats. Billger's punt rolled to a stop at the Wildcats' two-yard line with 3:34 remaining in the game.
Bath's quarterback Doug Sanders methodically engineered a 13-play drive that covered 98 yards by completing five passes to Teran Sullivan for 90 yards and the Wildcats had first-and-goal at Celina's eight-yard line. Sanders needed two rushes to cover the final eight yards for a touchdown that pulled the Wildcats to within a point at 42-41.
Bath was lining up for the game-tying PAT kick, but Miller called timeout to decide whether to kick the PAT for the tie or try for a game-winning two-point conversion.
The Wildcats came out of the timeout looking for a two-point conversion to win the game and lined up in a power formation. Sanders took the hand off and looked to have an open alley into the end zone before Knous penetrated his way into Bath's backfield and tackled Sanders short of the goal line.
"That's my job as a captain and a leader of the team," said Knous. "It was my job to make a play in that situation. I shot a gap and got off a block in time to grab his ankles and bring him down. A great way to finish my four years at Celina."
"I have no second thoughts at all about going for two in that situation," said Miller. "We took a timeout to think about it a little bit and we had a check-with-me play based on what they (Celina) lined up in defensively. The kid made a great defensive play, he slanted through the back-side A-gap and got ahold of his leg and pulled him down. It was a phenomenal play by a defensive lineman. We were initially going to kick it, but we've had some problems this year on special teams, so we put the game in the hands of our offense. We just fell short."
Knous was a terror on the defensive line all night long for the Bulldogs with three sacks and two other tackles for loss.
"He was dominant tonight and I think he's an all-league player in my opinion," said Celina's head coach Jared Rolfes. "It was especially nice to see a senior make a big play to preserve a win for us in the final game of his career. What a great play by a great player."
Celina finished its home schedule with a perfect 5-0 record for the first time since 1995 and won seven games for the first time since 1998.
"Seven wins is a big deal for us because it hasn't been done here in a long time," said Rolfes. "This senior group achieved a lot in the last few years here with two winning records. It's unfortunate that we won't make the playoffs, but this team had a great season and did a lot to be proud of."
Billger and Hembreee had strong performances in their final game in a Bulldogs' uniform. Billger fought the constant rain and completed 24-of-45 passes for 286 yards and four touchdowns while also adding a rushing score. Hembree was limited to just 58 yards rushing on 16 carries with a touchdown but added five receptions for 122 yards and two scores.
"They weren't covering me a lot out of the backfield on the passing plays, so Braden found me open and I just did what I could do and try and pick up some yards," said Hembree.
Braelen Bader added eight receptions for 70 yards and a touchdown.
Sanders had a big night for Bath as he completed 26-of-44 passes for 251 yards and two touchdowns while rushing the ball 33 times for 164 yards and three scores.