Monday, October 29th, 2012
Crowd wants more details
Romney in Celina
By Nancy Allen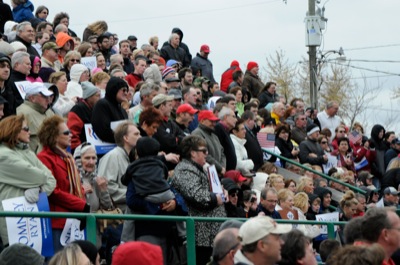 CELINA - About 5,000 supporters of Republican presidential candidate Mitt Romney and his running mate Paul Ryan packed the Celina Fieldhouse and nearby football stadium for a campaign stop Sunday afternoon.
People began arriving around 9:30 a.m. to ensure a seat in the heated, 2,000-seat fieldhouse before the doors opened at 11:30. The football stadium was equipped with huge screens projecting a video feed of the live action inside to the overflow crowd outside.
Campaign officials worked the waiting crowd, selling T-shirts, hats and buttons emblazoned with the candidates' images and the now easily recognizable double Rs that stand for both candidates surnames.
The sound of country music blaring from speakers wafted outside whenever the fieldhouse doors opened. Secret service officials in dark suits constantly scanned the crowd and talked into microphones tucked into their hands. Celina police and sheriff's deputies from Mercer and Auglaize counties were abundant.
"It's like a concert for politics," said Republican Laura Boeckman of Coldwater, who arrived at 9:45 a.m. "We wanted to take the opportunity to see history; it's not often they come to our little town."
The economy and healthcare are issues Boeckman wanted to hear the candidates talk about.
"We're farmers and a lot of us buy our own healthcare," she said. "If Obamacare takes effect, we'll take a big hit in both areas."
St. Henry resident Teresa Steinbrunner, a Republican, waited in line with her hat pulled firmly over her head as winds whipped in cold air.
"I don't want them to say anything bad about the Democrats, I just want to hear the truth," she said. "I think they've done that so far without attacking."
She said her top issues include anti-abortion legislation and  support for military and defense. Her son Shannon is in the Navy.
Celina resident Ken Wilges, a self-described conservative Republican, said he came to "see history in the making" and believes Romney and Ryan will be the next president and vice president.
"We need more jobs, and the debt is getting ridiculous," he said. "The more jobs we have the debt will go down."
Wilges said the American people most want to know what the country's future will bring and thinks Romney's five-point plan of U.S. energy independence by 2020, expanding trade, education improvements, deficit reduction and championing small business is a good place to start.
Sheila and Keith Gudorf, who lead the Celina High School drama program, were called in to help with technical support.
"We're absolutely part of history for them to come here to Celina, Ohio, a smaller venue than they are used to," Keith Gudorf, a Republican, said.
"I hope they continue to spell out plans for the economy and healthcare, all the issues, because every time they don't spell it out, the other side always says they're too vague and don't have a plan," he said. "I think they've been specific about Medicare and healthcare being safe."
Rockford resident Bob Wehe, a Republican, said the country is starving for leadership under President Obama.
"Jobs and getting our country back to work" are his top issues.
"We need to get a real grasp on this (economy) and control it; I'd like to see Obamacare repealed," he said.
Paige Watkins, 22, of Celina and a member of the U.S. Army, said she liked what the candidates had to say.
"I was excited to hear Romney talk about veterans, our military and taxes," she said. "I hoped he'd talk about abortion, but he didn't."
Romney has gone on record saying he opposes abortion with the exceptions of rape, incest and to save the life of the mother.
Jan VanderHorst, Celina, said her main concerns are the lack of a budget, debt and the future that's being left for generations to come. She feels Romney has a good handle on the issues and that he'll be a good leader.
She called it "refreshing" to hear Romney talk about working with Democrats across the aisle to make changes that help the country.
"We've got gridlock," VanderHorst said. "We need someone who can get us together."
Chad Stolly, Celina, agreed.
"He's absolutely right in saying he needs to reach across the aisle for tax and healthcare reform," said Stolly, a fifth-generation insurance business owner. "The cost of healthcare is untenable the last two years with what they require us to pay out of pocket (for our employees)."
Leah Thomas, 4, of Fort Wayne, Ind., shook hands with Ryan and Romney.
"I shake his hand," the young Thomas said after the rally, smiling shyly in her hand-knitted hat.
Her mother, Amy, responded, "I just keep thinking, 'please let them win for my child's future.' "