Monday, October 29th, 2012
Coldwater bows out of tourney after loss to Kalida
Division III District Girls Soccer at Bath
By Gary R. Rasberry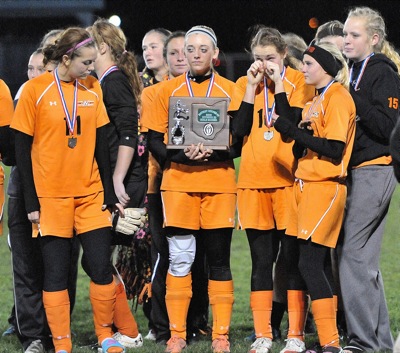 BATH TOWNSHIP - The most successful season in the short history of Coldwater's girls soccer program ended in the Division III district finals on Saturday as unbeaten Kalida came away with a 5-0 win over the Cavaliers at Bath High School.
The win pushes the Wildcats (18-0-1) to the regional semifinals on Tuesday at Ottawa Hills. The Cavaliers, in their fourth season of play, finished the season with a record of 9-7-2.
Cavaliers' coach Scott Brinkman noted how far the program has advanced in the four years.
"I told the girls the first competitive game we ever had was right here on this field, and we got beat 17-2," said Brinkman. "That was 50 months ago, and here we are now in the district finals. We're not happy we lost, but it's been a blessing all season."
Kalida jumped out quickly on the Cavaliers as Summer Holtkamp put the Wildcats in front just 83 seconds into the game with an unassisted goal. Kalida scored three times in the first 7 1/2 minutes of the game as freshman Brittany Kahle followed with a header into the net off a Jackie Gardner crossing pass at the 35:25 mark and then Kahle scored again at the 32:28 mark off an assist from Holtkamp. Gardner scored the fourth goal of the opening half for Kalida at the 10:13 mark and Skylar Basinger added a score with 27 minutes left in the second half to round out the scoring.
"We're not going to let one loss diminish this season and this team, or the program itself," said Brinkman. "But yeah, when it's 1-0 early or 2-0 early, you're in trouble. Coming into the game, we had to play well, and (Kalida) had to play not very well. We played as well as we could play under these circumstances. There's nothing we could do differently."
Cavaliers' four-year starting goalkeeper Krista Wellman made 12 saves and Coldwater did not get a shot on goal. The Wildcats outshot the Cavs 22-0.
"The tears after the game, I think, are partially for the loss, but partially because we knew we won't be able to play this group of kids again," said Brinkman, a nod toward to the six seniors on the roster. "They understand that. The accomplishments these kids made are just out of this world."