Wednesday, October 3rd, 2012
Fort Recovery sweeps Jay County
By Gary R. Rasberry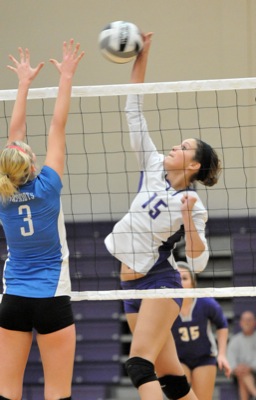 FORT RECOVERY - The Fort Recovery Indians' volleyball team earned bragging rights over Jay County after winning the Ohio/Indiana border battle in three games on Tuesday night at Fort Site Fieldhouse.
Serving helped the Indians (6-12) pick up wins in the first two games by margins of 25-13 and 25-22. The Indians' serving dropped off greatly in the third game but they had built enough of a cushion to stave off a Patriots' (7-19) comeback for a 25-23 win.
"We're finding our groove a little bit," said Indians' head coach Kylie Huelsman. "We struggled a little bit this weekend (at the Crestview Invitational), but getting a win (in the final match on Saturday) actually helps us with this game."
In the first game, Fort Recovery's Hannah Kaup served up nine straight points, four coming via aces, to put the Indians up 12-1 before the Patriots could break the serve. Fort Recovery served up six total aces in the opening game, with Sierra Pugh closing out the win with an ace.
Jay County rebounded and had one-point leads several times early at the start of game two, but Fort Recovery's Kelsey Fiely served up three aces to put the Indians ahead 9-6. Thanks to solid serving from Cassidy Rammel, the Indians were up as much as 20-14 before the Patriots made a small run to cut the final margin to three.
In game three, the teams combined for six serving errors out of the first 10 serves. The Indians finally got some breathing room as Kaup and Fiely had good service runs that put the Indians up 18-11.
Just when it looked like the Indians were ready to wrap up the win with a commanding 24-19 lead and the serve, the Patriots made it interesting. Jay County got the sideout and served up three straight points to make it 24-23 before Fort Recovery's Tori Lennartz got a spike to fall to close out the match.
"They definitely didn't let Jay County coming back get them down," said Huelsman. "They kept working hard and pushing points. But we kept letting them creep back. We need to work at staying consistent and staying ahead. Just staying on top of our game."
Fort Recovery looks to extend its winning streak to three on Thursday as the Indians travel to New Knoxville.