Thursday, October 4th, 2012
Lefeld a leader on UC's offensive line
By Gary R. Rasberry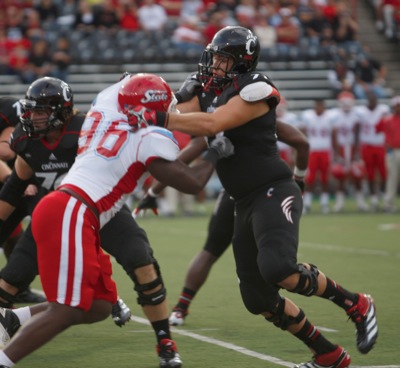 The Cincinnati Bearcats are standing tall with a 3-0 record thus far in the early stages of the college football season and Eric Lefeld is a key contributor to the team's success.
The former Coldwater standout has become a key component on UC's offensive line since entering the starting lineup last season and helping the Bearcats to 10 wins and a victory over Vanderbilt in the 2011 Liberty Bowl.
Now, Lefeld and the Bearcats are gearing up for their annual Battle for the Victory Bell against Miami on Saturday at Nippert Stadium.
"This week is a different mentality," said Lefeld via telephone after practice on Tuesday. "It's the 117th meeting (vs. Miami). Playing for the Victory Bell is as important as any game this season.
"The game against Virginia Tech (which the Bearcats won 27-24 on a late touchdown) was unbelievable. We brought a great crowd. I think we had two weeks of preparation (the Bearcats had a bye week after beating Delaware State on Sept. 15). It was a tight game. We executed and tried to protect Munchie (UC quarterback Munchie Legaux) as best we could. ... Persevered the whole game."
Lefeld didn't play as a freshman when the Bearcats struggled to a 4-8 mark under coach Butch Jones. But last season, the Bearcats rebounded in a big way. Lefeld broke into the lineup at right tackle during the season and the 6-6, 287-pound redshirt sophomore has become a mainstay on the O-line. Lefeld is the left tackle this season.
"First and foremost, it's a unit," said Lefeld. "You never know where you're going to be needed. It's important to know all the positions. Before every game, we test from tackle to guard. Some guys' responsibility is to play guard from right to left, tackle to center. For me, transitioning from right tackle to left tackle wasn't too difficult. It has been a lot more responsibility, but I love it. I wanted to take it on.
"I have a great (left) guard in Austin Bunjnoch. Center Dan Sprague, (right guard Sam) Longo and Hooey are a great group of guys. We work well together. We have great success when we operate as one."
Lefeld has a lot of praise for coach Jones, who came from Central Michigan to take over in 2010 when Brian Kelly bolted for Notre Dame.
"He gives it to you straight, and he's a great coach," said Lefeld. "He gets you prepared for the game that week. There's not much more you can ask for from a head coach."
For Lefeld and the Bearcats, the goal this season is simple: be on top of the Big East when the smoke clears.
"Win the Big East, that's the first and foremost goal," said Lefeld. "You can't look at the big picture. You have to take each week as a challenge and stay focused. ... We have to work hard and keep our nose down and be humble."