Thursday, November 1st, 2012
Do pro-life symbols cross the line?
By Shelley Grieshop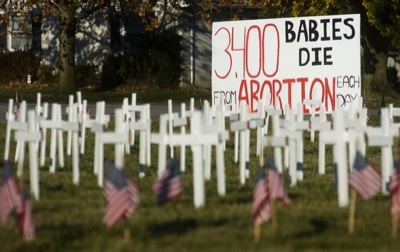 CELINA - A vacant lot with 300 small, white crosses is creating a stir.
The pro-life display at the corner of Wayne Street and Havemann Road was launched by Students4Life, a new group of Celina High School students who oppose abortion. The 1 1/2-foot tall crosses represent the 3,400 babies aborted each day, group president and senior Miranda Werling said.
At least one area resident opposes the public presentation on the property owned by Westwood Car Wash. Angie Compton Jones of Celina said the message is too visible, not appropriate for young children and too close to Celina schools (0.3 miles from East elementary).
"Every time I pass this, my 8- and 10-year-old have to ask what abortion is, and they think the babies are buried under the crosses," she said. "Kids grow up too fast these days, and now we have to expose them to this."
Jones said abortion isn't a topic she should be forced to discuss with her children because of someone else's right to freedom of speech.
Other area residents feel the crosses and their message are appropriate for people of all ages.
"I have two 10-year-old granddaughters. They both know what abortion is. They learn it in school," Celina resident Ann Tesno said. "Whether you agree or not, it makes you think. I for one think the display is great."
She said children already are exposed to such topics from peers, from reading materials and watching television.
"We have 12-, 13- and 14-year-olds having babies. You can't shield them," Tesno added.
Mary Beth DeWitt, a psychologist at Children's Medical Center, Dayton, doesn't feel the cross display is unsuitable for young children.
"I can't really say it is inappropriate because others have the right to express their opinions, but it allows the opportunity for parents to have conversations with their children about their own value system and that of others," she said.
DeWitt said it could be used by parents as a teaching opportunity.
"Certainly, I don't think a parent should have an in-depth conversation about abortion with a young child as they cannot understand the concept, but they can begin to teach values," she said.
Derick Gregory, 38, of Celina, in a post on Facebook asked Jones if she would be offended if the crosses represented fallen soldiers.
"I bet not. Would you have a problem telling your kids why these guys died?" he questioned further.
Jones replied by stating the two issues are completely different and not relevant.
Werling said the display, which includes a handmade sign, miniature American flags and a pro-life banner, was erected prior to the arrival Sunday of Republican presidential candidate Mitt Romney and his running mate, Paul Ryan, who are pro-life.
Werling said Students4Life is dedicated to being "a voice for those who have none." The group seeks to raise awareness for the "social injustice of abortion," which "targets the most vulnerable members of society, the unborn," she said.
The site was purposely chosen because it is easily visible to motorists, Werling said. She realizes the controversial issue evokes emotion; that's the point, she explained.
"I would acknowledge that when confronted with the truth of abortion, the natural reaction is discomfort. It is far easier for people to ignore the issue and sweep it under the rug," Werling said. "People once had the same attitudes about slavery and segregation."
She hopes the message will make people think twice about their choices at the polls on Tuesday.
Werling stressed the newly organized group is not school sponsored. It currently has more than 15 student members including officers Hannah Stroth, a high school junior, and sophomores Nathan Higgins, Nathan Stoner and Luke Bowsher. Adult advisers are Aaron Bowsher and Jason Andrews, teachers at the school.

Correction:
The story incorrectly stated the cross display was erected on property owned by Westwood Car Wash in Celina. The owner of the lot is Don Montgomery.
The error was made from information received from the pro-life group president.