Tuesday, November 27th, 2012
Law enforcement officers honored for saving life
By Amy Kronenberger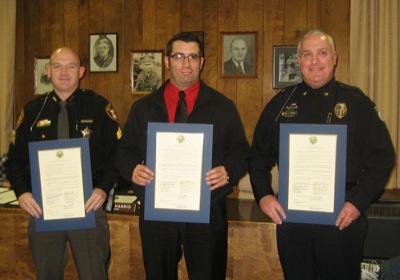 ST. MARYS - Three law enforcement officers on Monday were honored for saving a St. Marys woman.
Council members unanimously passed resolutions of commendation for Auglaize sheriff's deputies Brian Little and James Holtzapple and St. Marys police chief Greg Foxhoven for their efforts earlier this month.
On Nov. 1, the St. Marys Fire Department received a call about a woman floating in the river. When rescue workers arrived, Little, Holtzapple and Foxhoven already had dove into the water to save 69-year-old Marilyn Hofacker.
"Through the courageous efforts of (the officers), the resident was rescued and is now recovering," council president Dan Hoelscher read from the resolution.
The officers' actions "exemplify the admirable efforts of our safety forces and demonstrate the results of working together as a team to accomplish a common goal."
Family and friends of the officers filled council chambers and watched as mayor Pat McGowan presented the resolutions to Little, Holtzapple and Foxhoven.
"This council and the city administration hereby commend (the officers) for their actions on Nov. 1, 2012, when they placed their lives in jeopardy by participating in the rescue of a resident of St. Marys from the cold waters of the St. Marys River," Hoelscher read.
In other action, council gave first reading to two ordinances amending sections of the codified ordinance. City law director Kraig Noble said the changes close loopholes they recently discovered.
The first ordinance amends a section of the vicious dog law, saying the person controlling the leashed dog must be at least 18 years old. The ordinance originally stated a "person of suitable age and discretion" should be responsible for the animal.
The second ordinance adds city code enforcement officer to the list of who can make inspections and order a resident to clean a property or abate nuisances.
Council met in executive session to discuss possible land acquisition. Following the session, they scheduled water/wastewater, streets/sidewalks and parks/playgrounds committee meetings for Dec. 3 at 5:15 p.m., 5:30 p.m. and 5:45 p.m. respectively.
The next regular council meeting is 7 p.m. Dec. 10. All meetings are held at the municipal building.