Wednesday, November 28th, 2012
St. Henry victorious in battle of the Redskins
By Randy Bruns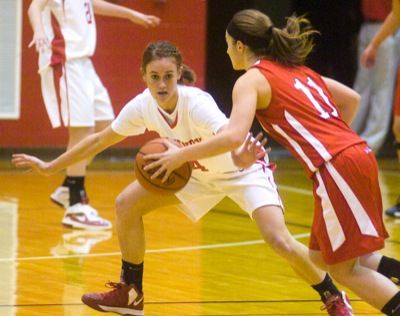 ST. HENRY - The St. Henry Redskins' girls basketball team is off to a 2-0 start after a 47-38 victory over the Wapakoneta Redskins on Tuesday night at - where else? - Redskin Gymnasium.
Though St. Henry didn't possess a huge size advantage, the hosts pounded the ball into the paint to emerge victorious in the battle of the Redskins.
Wapakoneta (0-2) took an early 5-2 lead, but St. Henry responded with a 9-0 run on the strength of a pair of buckets by Kami Siefring, and the hosts had a lead they never relinquished.
The visiting Redskins certainly made it close, though.
After a free throw by Kelly Siefring gave St. Henry its largest lead of nine points with three minutes left in the first half, Wapakoneta got a boost from its bench. Sophomore Carly Buzzard drilled three straight jumpers in the final 1:20 of the second quarter to pull the visitors back into contention at halftime, 22-19.
Though they lost the momentum just before halftime, the hosts quickly got it back early in the third quarter thanks to Kelly Siefring. The senior guard canned a three-ball just 30 seconds into the second half and a minute later she drove baseline for another bucket to put her squad back up by eight points.
Wapakoneta roared right back and closed to within two points at 27-25. The teams then traded buckets for most of the remainder of the third period before Taylor Clune put St. Henry up 37-32 going into the final frame.
Clune and Siefring struck again with buckets early in the fourth, and after Mikesell dropped in a pair of free throws, the hosts again held a nine-point advantage. This time there would be no comeback from the visitors, as St. Henry went into keep-away mode and cruised to the win.
"We had a high-percentage shooting night and that's because we took good quality shots," said St. Henry's first-year coach Kurt Huelsman. "Going to the post is something we try to do and we had a lot of success with that tonight."
The hosts were 21-of-46 from the field for a solid 46-percent effort.
"One thing that we really try to do is get movement," continued Huelsman. "We have a motion style offense and we really stress cutting hard to our girls. We set good screens tonight and that's what kind of leads to the good movement."
Kelly Siefring paced St. Henry with a game-high 14 points while Mikesell chipped in with 12. Clune did double duty in the post with 11 points and 10 rebounds.
St. Henry will continue its nonconference schedule on Saturday when the Ansonia Tigers come calling at Redskin Gymnasium.