Friday, November 30th, 2012
Memories burn brightly
Community remembers murdered father, daughter
By Margie Wuebker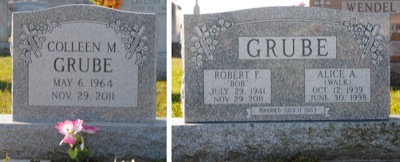 ST. JOE - Memories of happier times flowed and candles in all shapes and sizes flickered Thursday night as relatives and friends gathered at St. Joseph Catholic Church to remember Robert "Bob" and Colleen Grube.
The 70-year-old father and his 47-year-old daughter were found one year ago today bound with duct tape and shot to death at their Burrville Road home in rural Fort Recovery.
Master of ceremonies Ted Shuttleworth, a retired Fort Recovery principal, music teacher and band director, asked the 90 people in attendance to pray for new evidence that will provide authorities with a much-needed break in the case.
"You need to know you are in the hearts, minds and prayers of this community and all communities in western Ohio," Shuttleworth said looking toward the pew where family members sat. "We pray for a solution to a crime that has all of us wondering 'Why, Why, Why?' "
Mercer County Sheriff Jeff Grey at a press conference on Thursday said investigators believe they are heading down the right path and have a few people about whom they are "very curious." He would not call them suspects. He also has said that items were strewn about the house during the crime and a laptop was stolen.
At the memorial ceremony, Shuttleworth smiled, recalling how he had all six of Bob Grube's children in the band.
"I remember Bob and his wife Alice scooping a lot of ice cream and making a lot of pizza and burritos as part of fund-raising activities," he said. "Bob was such a gentle man ... I don't recall a time when he raised his voice."
Shuttleworth asked others to share memories, with one woman recounting how Bob had made rosaries for her. He finally agreed to accept payment for materials but refused any compensation for his labor.
"He told me to pray a rosary for him and that would be suitable payment," she said.
Another woman - a local bus driver - recalled seeing Colleen at the door smiling and waving. Colleen, a former nanny who never married, doted on her nieces and nephews. Their names are etched on the back of her grave marker.
Bob formerly served as a lector and communion distributor at St. Joe until his health declined. He then came to church in a wheelchair, pushed by Colleen.
"He was such a good gentleman and a humble servant first at Fort Recovery Industries and later at Cheryl Ann Programs," Shuttleworth said. "He loved the Cheryl Ann clients, and they loved him."
Another woman stood up with lighted candle in hand, calling Bob the most gentle man she has had the good fortune to know.
"He always had a big smile, and he was an encourager of everything," she added.
His sister-in-law, Elaine Grube, said she missed the family gatherings and Sunday meals at Wendeln Tavern.
"We just kept adding chairs and pushing tables together as more relatives showed up," she said.
Photos and other mementos of her brother-in-law and niece are stowed away in a box beneath her bed.
The service ended with organ music and the singing of Bob's two favorite songs - "How Great Though Art" and "Silent Night." Many of those in attendance hugged his daughter Michelle Stammen, who stood in the center aisle with other family members. She left church with tears rolling down her cheeks.
Family members have been traumatized in recent weeks by Facebook messages that appear to be sent from Colleen's account. Elaine fears the people who took her niece's laptop computer have started to use it and send correspondence to those listed as friends.
Grey does not believe this is the case, explaining some accounts automatically begin issuing messages after periods of inactivity.
"Why would someone who has escaped capture for a year suddenly fire up a stolen laptop?" he said. "It just doesn't make sense."
Bob's son Adrian Grube did not attend the service but spoke with The Daily Standard earlier in the day.
"Sometimes it seems like an eternity since their bodies were found," he said. "And sometimes it seems like everything took place yesterday. We want the people responsible caught and prosecuted."
He believes the death penalty would be a fitting sentence for the culprits.
"Some days are harder than others," he said. "All of us still catch ourselves thinking or saying we have to remember to tell Dad and Colleen, and then reality sets in."