Saturday, December 1st, 2012
Small senior class delivered big in leadership for Marion
By Randy Bruns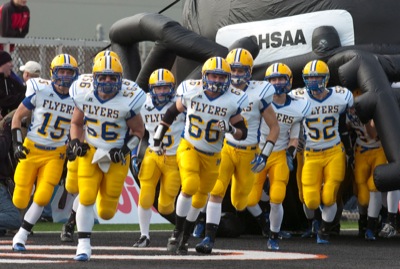 MASSILLON - During Marion Local's improbable run to a sixth state championship, most of the talk has been about the team's youth. With seven sophomores and one freshman starting in various capacities, the lack of veteran leadership was a natural topic.
What everyone apparently missed, though, was that this year's young Flyers got all kinds of leadership from six seniors who pulled themselves out of mediocrity during junior high and made themselves into state champions.
Four years ago while the varsity Flyers were making another run to the state final four, Tyler Fleck, Cory Homan, Alaric Keller, Kyle Mescher, Jordan Rethman and Mark Thobe were finishing their junior high careers with an ignominious 1-14-1 record.
For those that put much stock in junior high records, the future of the Flyers seemed pretty bleak.
"Everyone is used to watching Marion football win and then you've got a group of seventh and eighth graders that only won one game in two years," said Homan, a tight end. "It was hard to swallow and probably a big part of why we only have six seniors right now. A lot of guys didn't want to lose like that."
Though their football debut was anything but impressive, the six that stayed forged a bond.
"We struggled a lot and had a lot of small kids so we were physically outmatched in about every game," explained  Rethman, a receiver and cornerback. "We couldn't get much going and it hurt us because we had a lot of people that quit. The guys that stuck with it were close-knit and just went through everything together."
Thobe, a receiver and defensive back, didn't mince words about how his class started their careers.
"We had plenty of tough times in junior high because we were pretty much terrible," laughed the senior. "We were just overmatched all the time but us six guys stuck with it and we knew if we worked hard at it we could get it done."
Even as the younger players on this year's squad pushed for playing time, coach Tim Goodwin gave his seniors the first shot at playing time, as is his custom.
"They do everything the right way and they do it the best that they can, and that's all you can ask as a coach," commented Goodwin. "You try to find ways to get them out there because you want those kids to succeed and be a part of it so you find roles for them. Obviously they did the job, though, because we're not going to keep throwing them out there if they can't do it."
They did it indeed, and they did it all the way to a title. And while they were at it, they provided terrific examples for the youngsters on the team.
"It's no different than playing with seniors," said offensive guard and defensive tackle Fleck, of playing alongside underclassmen. "As long as they know what to do and they can do it right it's fine. If they're out there, they're not underclassmen, they're just varsity."
Keller, a running back and linebacker, saw his senior season as a way to help the future of Marion Local football.
"Every single mistake you make shines on them so you've just got to try to be flawless to show the young guys what it takes to win games like this," stated Keller. "That sophomore class and then with Hunter (Wilker), they're going to be really tough to beat down the road."
Goodwin knows the sacrifices that the seniors made throughout their careers.
"A guy like Kyle Mescher (center and linebacker), in his whole football life he has played every snap, whether it's offense, defense or special teams," complimented Goodwin. "He's just never come off the field because his class needed him out there the whole time. These guys are just tough kids."
And according to Goodwin, these tough kids found a way to be exceptional leaders.
"I think they actually had a built-in advantage because there are so few of them," said Goodwin. "Sometimes when you have a big senior class they kind of look at each other to see who is going to say something. But these are some of the grittiest kids that I've ever coached. You just can't beat them down."