Saturday, December 15th, 2012
Deadline here for manure plans
Some farmers didn't file proposals for nutrient management
By Nancy Allen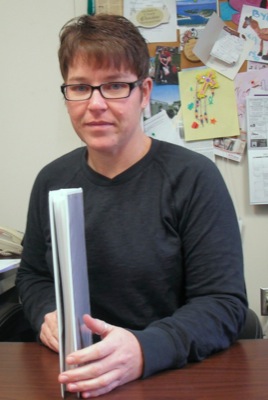 GRAND LAKE - All livestock farms in the Grand Lake Watershed must have nutrient management plans Monday and more than a dozen have failed to file.
Fourteen of the 156 livestock operations in the area would have failed to meet the original deadline, today. The state gave the extension because the original date fell on a Saturday.
Local officials called the effort by local farmers an achievement.
"I feel like it's been an accomplishment," said Frances Springer, a state nutrient management specialist hired to help watershed farmers. "(We) meet one-on-one with producers to take an in-depth look at their operations and let them know what they need to do."
A nutrient management plan details how a farmer proposes to manage his manure to prevent runoff into waterways. Grand Lake Watershed farmers were mandated to complete the plans after the state imposed new rules to help curb toxic algae blooms in the lake.
The 156 livestock operations represent 270 farms.
Just 25 percent of the 46,000 crop acres were covered by plans a few years ago. Now, 85 percent are covered.
How complex a nutrient management plan is and how long it takes to complete varies.
"The easy ones are done in a couple of days, the more complicated ones can take two weeks," Springer said. "An average one (file) is one inch thick and some are two inches thick; they can be very time consuming."
Farmers now must prove they have enough acres for manure application and test their soil to show how much, if any, manure needs applied to grow crops. The plan mandates farmers map their manure applications on all acres based on which crops they grow each year.
The plans and soil tests must be updated every three years, and a manure analysis is required every year. One manure sample per storage structure and one soil sample per 25 acres is required at the farmer's cost.
Farmers also must keep records on manure storage volumes and when and where they haul manure and weather forecasts when they apply it.
The state only approves plans that show a farm's nutrients are balanced and do not exceed specified levels, Springer said.
Some farmers said one of the tougher new rules will be a ban on applying manure between Dec. 15 and March 1 unless a farmer gets the state's permission. The ban and being able to show proof of 120 days of manure storage are rules that go into effect Jan. 19.
Maria Stein dairy farmer Bob Homan said getting his nutrient management plan was fairly simple. He'd gotten one in 2002 when he applied for federal funding to build manure storage and renewed the plan in 2010, a process he figures took about eight hours.
"There's more record keeping more than anything with the new rules," said Homan, who added that it was tough getting his spreader calibrated to apply the proper amount of manure to meet the standards.
Jeff Selhorst, Coldwater, said his plan took a few months to complete, mostly because the private consultant helping him had to be replaced.
Selhorst, who raises turkeys and dairy cattle, already had a manure management plan but not the more involved nutrient management plan.
"It was a couple of visits to the soil and water office to get some questions answered and then we worked with a technical service provider and gave him our numbers on soil and manure tests and livestock numbers," he said. "There were several phone calls back and forth to answer some questions."
County and state soil and water officials helped write most plans. The process involves a walkthrough of the entire farm.
Selhorst said he was surprised to learn that he will have to print out the weather forecast from an approved website for every day he applies manure.
"If there's a prediction of anything over a half inch, we can't haul," he said.
Selhorst said the application ban could pose a problem if the area receives an excessive amount of rain this spring, which may cause manure storage overflow problems and/or result in numerous farmers applying their manure all at once.
"It's going to be different," he said. "Obviously, Mother Nature's going to tell the tale."
Not having enough acres for manure application and not having 120 days of manure storage are main reasons some hog and cattle farmers won't meet Monday's deadline. A handful have refused to participate in the process at all, said Karl Gebhardt, chief of the state's division of soil and water resources.
Gebhardt has promised to issue chief's orders against farmers who don't comply.
A chief's order advises a remedy in a specified amount of time and violating it is a first-degree misdemeanor. Noncompliance with a chief's order could result in a case being referred to the Ohio Attorney General's Office and then a local court for prosecution. Cases also may be referred to the Ohio Department of Agriculture to force farms to follow the same rules as a state-permitted facility, the chief said.
Montezuma area dairy farmer Chuck Schwieterman said farmers are just going to have to change if the lake is to get cleaned up.
"It's just a mindset you have to change," Schwieterman said. "You can't run a business like your grandpa did; you have to adapt to new technologies and regulations and pass it on to the next generation."
A big change ag leaders are working on is to move manure out of the watershed to northern and eastern parts of the county.
"We're still working to make the connections to transfer it out, we know that works," said farmer Jerry Will, who's active in Ag Solutions, a farmer-led group trying to develop cost-effective solutions to lessen nutrient runoff. "Until we find out other ways, that's the best solution."
The manure would likely go to grain farmers who have no livestock and use commercial fertilizer.
"It's starting to move. We just need people to understand the product," Will said.
Homan, Selhorst and Schwieterman said they feel the plans won't sit on a shelf after they're completed.
"In my opinion, you better follow it because they're supposed to review the records and if you don't have everything done you're going to pay the consequences," Selhorst said. "Everything about a clean lake has got to be a two-way street between agriculture and the lake community; I mean, we all got to work together to get some place and I think we are getting some place."
The plans and other rules were mandated after the state on Jan. 18, 2011, designated the watershed distressed because humans and animals were sickened by algae toxins in the lake the summer of 2010. The algae's main food source is phosphorous found in manure which runs off mostly farmland, the largest land use in the 58,000-acre watershed.
The 13,500-acre recreational lake has been under state water advisories the last four summers due to unsafe algae toxin levels.

Workshops to explain implementation:
A series of workshops on implementing nutrient management plans will be held in January, February and March.
Most of the workshops will be geared toward helping participants with record keeping. It will cover the basics of understanding crop needs, soil and manure tests and fertilizer recommendations. Manure application requirements will be matched to farm needs. Manure spreader calibration and specific field application rates also will be discussed.
The workshops are for farmers with completed nutrient management plans and will include work specific to their farms.
Cost for the workshops is $25, which can be paid at the Mercer County Soil and Water Conservation District Office. The classes have a limited capacity.
To register or for information, call the SWCD at 419-586-3289.
The workshop dates are Jan. 15 and 29; Feb. 12 and 26; and March 12 and 26. Each Tuesday session will be held 10 a.m.-2:30 p.m. at the Catholic Knights of America hall in Cassella.
A nutrient management field day is planned for this summer.
Sponsoring the workshops are The Grand Lake/Wabash Watershed Alliance, Mercer SWCD, Ohio Farm Bureau and Ohio Department of Natural Resources Division of Soil and Water Resources.

Correction:
Chuck Schwieterman said farmers have to change their mindset on farming practices, not that they have to change if Grand Lake is to get cleaned up.
The error was made in reporting.