Friday, December 21st, 2012
Winter opens with snow
Slippery roads lead to accidents; schools canceled
By William Kincaid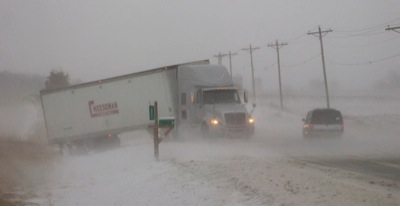 It's beginning to look a lot like Christmas with the first measurable batch of snow of the holiday season falling, fittingly, on the first day of winter.
According to local weatherman Dennis Howick, the area received about an inch of snow overnight, resulting in slick roads and, much to the delight of children, an early start to the holiday vacation as all schools closed today.
Not much more snow is expected through the weekend. This afternoon and tonight will be mostly cloudy and windy with flurries and a high of 35, Howick said. No additional snow is expected Saturday or Sunday.
Roads in Mercer County this morning were slick and hazardous, said Monte Diegel, Mercer County 911 administrator.
"We've handled numerous slide-offs and minor fender-benders this morning," he said, adding that 21 such instances occurred from 3-9:30 a.m.
No injuries were reported.
Jeff Whetstone, ODOT's transportation administrator for Mercer County, said state routes this morning were snow covered but very passable, adding that some sections had dry pavement while others had a light dusting.
ODOT, which is responsible for maintaining 417 miles of routes in Mercer County, dispatched 10 trucks at midnight. Whetstone expects the trucks to continue working throughout the afternoon and evening.
Temperatures are expected to stay in the upper 20s to mid-30s through Christmas Day, however drivers should take extra precautions during the winter months in case of breakdowns.
Lt. Scott Carrico of the Wapakoneta post of the State Highway Patrol said in cases of vehicle trouble, motorists should turn on their hazard warning lights, safely position the vehicle as far off the road as possible and call for assistance while remaining in the vehicle.
The weather system affecting the area is part of a widespread snowstorm that began in the Rockies earlier in the week. More than a foot of snow fell in parts of the Midwest on Wednesday and Thursday.
The storm made travel difficult from Kansas to Wisconsin, forcing road closures, including a 120-mile stretch of Interstate 35 from Ames, Iowa, through Albert Lea, Minn. Iowa and Wisconsin activated National Guard troops to help rescue stranded drivers.
In Iowa, two people were killed and seven injured in a 25-vehicle pileup. Drivers were blinded by blowing snow and didn't see vehicles that had slowed or stopped on Interstate 35 about 60 miles north of Des Moines, state police said. A chain reaction of crashes involving semitrailers and passenger cars closed down a section of the highway.
The storm was blamed for traffic deaths in three other states.
- The Associated Press contributed to this report.

Guidelines for winter drivers:
Mercer County Engineer Jim Wiechart offers the following guidelines for motorists this winter season,
• if you have to travel during hazardous conditions, use common sense and adjust your speed to road conditions.
• when following a snowplow, be vigilant and stay back far enough so you can be seen in the snowplow driver's mirrors. All snowplows have starting and stopping points and at times unexpected backing by the truck may be necessary.
• many of the township and county road pavements are one lane or narrower. Never attempt to pass from behind in these circumstances.
• when approaching a snowplow coming toward you on a typical two-lane road, pull over as far as you safely can. The tip of the blade on the truck usually is at or around the center line of the pavement.
• be vigilant at intersections and provide plenty of room. Plows may have to clear the edges of the radius of the intersection of snow and ice, which requires many forward and reverse operations at the intersection area.
• keep track of the road conditions and advisories issued by the local media.
Wiechart also reminds residents living on county and township roadways not to leave snow plowed from private driveways on the roadway.
If it is found that snow displaced from a private drive onto a roadway contributes to an accident, the individual who placed it there could be found liable.