Friday, December 21st, 2012
MatDogs pick up first WBL win; Roughriders go to 4-0
By Gary R. Rasberry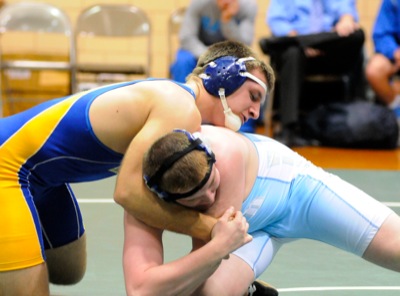 CELINA - The Celina wrestling team had two hard-fought matches on Thursday at the Dues Nursey Super-Tri, picking up their first Western Buckeye League win of the season with a 42-33 win over Elida after losing a tough 37-25 decision in their first match with Bath.
"We fought real hard," said Celina's coach Dave Hucke. "My young guys keep improving. As long as we do that, we're going to be in matches. That's all you can ask for."
St. Marys, on the other hand, came away with two convincing wins to move to 4-0 in the WBL with a 58-19 win over Elida and a 53-21 win over Bath.
Roughriders' coach Larry Gruber still sees things that his squad needs to work on, but is pleased to be 4-0 in WBL action.
"Everytime we come out here, we watch somebody and it's 'Okay, he needs to work on this.' or 'He needs to work on that.' ... Right now, we're just building and will take any victory we can take right now."
After two tough showings in their first two league duals at St. Marys, the MatDogs came out strong against Bath in the opening match. Kyle Balthis got a solid pin at 170 pounds early in the match and Kevin Lockwood won a 2-1 overtime bout at 195 pounds to help Celina jump out 13-10, but Bath used its experience in the two heaviest weights to get ahead 22-13. Jacob Whitaker's pin at 106 pounds moved Celina to within three points, but Aaron Crites lost to Travis Gibson 5-3 at 113 pounds to make it 25-19. Celina got six easy points via a void at 126, but back-to-back Wildcat pins at 132 and 138 allowed Bath to get the win.
Against Elida, Celina got big wins early as Andy Garwood (152 pounds) Curtis Silliman (182) scored big pins early. Crites and Travis Gibson helped put Celina over the top with pinfall wins at 120 and 126 pounds. Two late pins by Bath made it close, but Celina taking a win via void at 145 sealed the match.
"We were in both of them tonight," said Hucke Bath is a good team. We got Elida and I thought they had some good stuff, too. Pretty pleased right now."
For St. Marys, the opening match with Elida was put away quickly as void and pinfall wins gave the Roughriders a 24-0 lead before Elida could manage a point. Only one bout was scored a decision with St. Marys winning their contested matches by major decision, technical fall or pin. Among the Roughriders scoring pins were Luke Lemmerman (170), Jaiden Heitkamp (152), Chance Hicks (220) and Austin Quellhorst (126).
Against Bath, the Roughriders spotted the Wildcats six points before taking the next four bouts to go up 18-6. Another Bath pin made it 18-12, but St.Marys scored pins from Logan Simons (285) and Kaleb Chaney (106) to go up 30-12 and cruise from there.
"We had no idea what would happen when we got in here because we haven't seen either (Bath or Elida)," said Gruber. "Helps to have a full team, too (St. Marys did not void any weights). Otherwise, it would have been a closer match."
Celina and St. Marys, along with Elida, will return to the mats on Saturday as the teams travel to Coldwater for the annual Sielski Duals Invitational.