Monday, December 24th, 2012
Bejeweled Christmas
Meaningful trinkets keep memories shining
By Betty Lawrence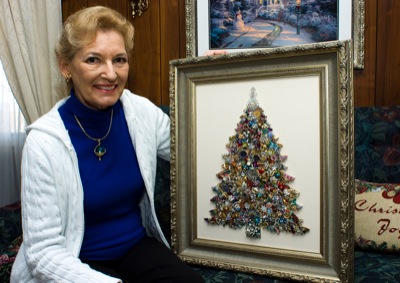 CELINA - Old costume jewelry, whether broken, tarnished, big or small, is beautiful to Pat Meikle.
The Celina woman has spent years collecting trinkets and making them into bejeweled Christmas trees. The sparkling, framed trees that adorn the walls of many of her family members' homes could be called genealogy trees - most of them uniquely symbolize a person's lifestyle.
Earrings, charms, lockets, pins, pendants and more have been trimmed, sliced, diced and recycled to create the trees.
"I have made trees that are simply pretty, using whatever jewelry I have and work it in," Meikle said. "Then there are theme trees, such as hearts, birds, Teddy Bears and the 'I Spy' tree."
The personalized trees are the most difficult.
"For these trees, I blend in things that symbolize their life," she said.
Tucked in the family tree made for her son, Mike Bruns, and his family, are a hydroplane, a lighthouse, a motorcycle, snow skis and goggles, a deer for his love of hunting, a medical symbol for his wife, who is a nurse, and a Dalmatian dog wearing a fireman's hat. Mike Bruns is a member of the Celina Fire Department.
Her husband Bill's tree also includes snippets of his life - a tiny bike that pays homage to his paperboy days, his father's old Lions Club pin, a frog from his days spent frogging and a silver belt buckle with a $5 gold piece.
"Each thing is a part of their life and each tree tells a story," Meikle said.
She started making the jeweled trees about 30 years ago. Former Celina resident Nancy Desch introduced her to the art.
Items for projects have been gathered throughout the years by family members, particularly her lifelong friend and family member, Betsy Bills.
"We both love the old costume jewelry and after four years of collecting jewelry I made my first tree," Meikle said. "Betsy saw it, and she was hooked too. She has been instrumental in helping find all the special items used to make up the trees."
The trees are first formed by using an evergreen tree-shaped template. The design is drawn onto a piece of plywood and then cut with a coping saw and sanded.
"The tree is spray-painted and I always use gold paint," Meikle said.
Then begins the process of decorating the tree. Meikle uses tacky glue to affix the items to the form.
"You always start at the top and then sort of work in what looks best to you, filling it in until completely covered," she said. "It's not like working a jigsaw puzzle. You have to keep in mind texture, color, sparkle, size and fit."
She has learned several tricks of the trade, such as using shiny material for the background or giving it a coat of shimmering nail polish or glitter to bring a tree to life.
"It's not all jewelry you use, some of the pieces are little acrylic items you can find anywhere, like little stars, and then you jazz them up with glitter to make them sparkle," she said.
Meikle has created a one-of-a-kind tree for her daughter's Harley-Davidson shop, a cosmetology tree for the Clark County Joint Vocational School and a tree for the Sidney Dance Company. All of the projects have family ties.
After nearly three decades of making several dozen special trees, Meikle said she is hanging up her tools, passing them to her daughter.
"Placing the jewelry on the tree is fun and creative. Getting the pieces ready for placement is work. You have to cut the pieces to fit and some are difficult. Even with good tools, it requires both hand and wrist strength. I just don't have it anymore," she said.
Meikle said her pieces have brought her a lot of joy.
"My whole joy has been in giving them away," she said. "I am glad I made them when I was able to. It's been a fun, delightful thing to do."