Monday, December 24th, 2012
Couple killed, children injured
Family returning to area at time of two-vehicle crash
By Shelley Grieshop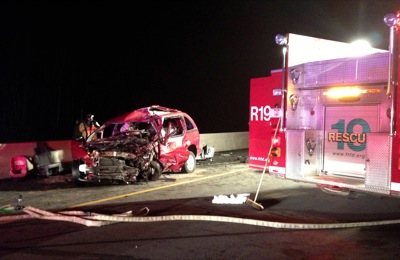 ST. MARYS - A former area couple were killed and their four children injured - three critically - in a horrific head-on crash involving a wrong-way driver on Interstate 75 in southern Ohio two days before Christmas.
Pronounced dead at the scene Sunday morning was Michelle Barhorst, of Madisonville, Tenn., who was driving the family's 2000 Chrysler minivan northbound en route to St. Marys to visit relatives. Her husband, Scott, 37, was flown to University Hospital, Cincinnati, and died a short time later.
The couple's children, Tori, 8, Hailie, 9, and Logan, 11, were flown to Dayton Children's Hospital with life-threatening injuries. Another son, Tyler, 18, was taken to Atrium Medical Center, Middletown, with minor injuries.
Also pronounced dead at the scene was the driver of the second vehicle, Joshua Nkansah, 40, of Fairfield, and his 7-year-old son, David. Another son, Darius, 4, was transported to Children's Hospital, Cincinnati, with critical injuries.
Authorities believe Joshua Nkansah was under the influence of alcohol when he drove his 1997 Dodge minivan head-on into the Barhorst van at 2:23 a.m. near Route 123. The report from the Ohio State Highway Patrol said Nkansah was driving northbound on I-75 near Franklin when he made a U-turn and headed south in the northbound lane of traffic.
Nkansah reportedly drove about one mile in the wrong direction before striking the Barhorst van. The interstate was shut down for several hours while crews cleaned the wreckage.
Troopers said Nkansah's van smelled of alcohol and a bottle of liquor was found inside.
According to his Facebook page, Scott Barhorst formerly worked at Precision Strip in Minster and was a 1994 graduate of St. Marys Memorial High School. No other information about him or his family was available at press time.