Wednesday, December 26th, 2012
Trace-back program targets alcohol sources
State agents, OSP to probe injury, fatal accidents linked to alcohol, drugs
By Shelley Grieshop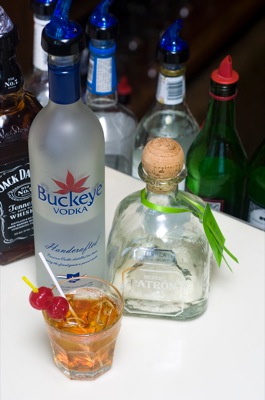 Nearly 100 state agents will team up with the Ohio State Highway Patrol beginning in January to investigate all serious injury or fatal accidents linked to alcohol or drugs.
The trace-back program will utilize the Ohio Investigative Unit (liquor control agents) to help officers across the state nab those who continue to serve alcohol to impaired patrons, provide alcohol to minors and host underage alcohol parties.
"If a bar owner refuses to cooperate in an investigation, they can be cited on administrative charges and taken before the Ohio Liquor Board," Joe Andrews, spokesman for the Ohio Department of Public Safety, said.
The Daily Standard attempted to contact several area bar owners for comments, but all refused to discuss the issue publicly.
Andrews said agents also intend to investigate every crash where a driver's blood-alcohol level is above 0.08 (legal limit), every DUI arrest where a driver's BAC is above 0.15 and every traffic stop where a person younger than 21 is suspected of having been drinking.
Nearly 400 people are killed each year in Ohio in alcohol-related crashes. Of the 10 fatal accidents investigated in Mercer County this year, two involved alcohol. Four of the six fatal crashes in Auglaize County this year were alcohol-related.
Drugs played a bigger part than alcohol in Mercer County's deadliest traffic accidents in 2012. Two involved heroin, one driver was impaired by cocaine and another was operating a vehicle under the influence of marijuana and alcohol.
Lt. Scott Carrico, commander of the Wapakoneta post of the OSHP, said he welcomes the state agents' help.
"It will keep troopers investigating crashes so they can get back out and do traffic control," he said.
A recent incident in Ada highlighted the seriousness of the issue, state officials said. A bartender and bar owner at a popular hang-out in the college town served at least 25 shots of liquor - more than a full bottle - in less than an hour to a student celebrating his 21st birthday. The young man become violently ill and was hospitalized.
The bartender and bar owner were charged by police with over-serving the college student. One was sentenced to five days in jail with four days suspended, ordered to pay a $200 fine and perform 16 hours of community service. The other man's case is pending. The state is pursuing charges against the bar.
Along with the new trace-back program, liquor control agents will maintain their jurisdictions of monitoring all businesses that sell alcohol, Andrews said.
Thomas P. Charles, director of the department of public safety, said restructuring at the state level put the program in place.
Local police and deputies will benefit financially as well.
"Trace-back investigations will be made available without cost to any Ohio law enforcement agency," Charles said. "We owe it to the families who have lost a loved one, whose lives never are the same because of a senseless act, to find out all the facts that led to the tragedy."