Monday, December 3rd, 2012
Coldwater's seniors the first to play 60
By Gary R. Rasberry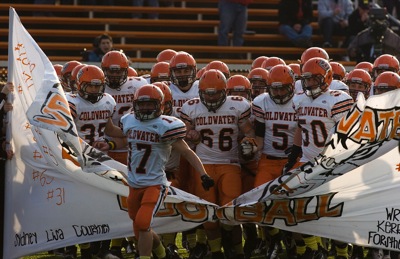 MASSILLON - Imagine playing six full seasons of high school football in four years.
The 23 senior football players from Coldwater suited up for the final time on Saturday got a chance to reach their goal of 60 games and finish as state champions.
The Cavaliers' seniors became the first group of seniors in Ohio high school football history to be a part of 60 games in their career, a feat only possible over the last decade when the playoffs expanded and five playoff games became possible.
"I can't even put it into words," said senior quarterback Austin Bruns. "It feels awesome when (you win) your last high school football game . You're always going to remember that. Just to go out with 23 seniors is incredible. They're all great guys (as are) the coaches. I'm always going to remember this. I'll miss it."
The 10-9 win over Kirtland in the Division V state final on Saturday was the perfect ending for the seniors, who have dressed or played in three previous state finals, all of which ended in losses.
For senior linebacker Zach Dickman, the silver medals awarded to each player for runner-up finishes provided motivation.
"I know I looked at mine (runner-up medals) pretty constantly over the winter as a motivation," said Dickman. "To have three silver and come home with a fourth silver our senior year wasn't going to happen for us."
When the final whistle sounded on Saturday's win, it had to feel like a weight coming off the team's collective back.
It's indescribeable!" said senior receiver-corner back Caleb Siefring. "We knew it would be a great feeling if we could win, I can't describe it. It's the greatest feeling in the world. Each state championship (loss) was like a dagger. Now, we've won. It's amazing."
"Starting out as a freshman, going to the state championship the first time was incredible on its own," said Dickman. "We had no clue we were going to do this. To go to four straight and be the first class to play 60, I will always have that. We will always be the first class to play 60 high school games. To win the last one is amazing."
Cavaliers' head coach Chip Otten is proud of the effort the 23 seniors have put in to make their final game a winning one.
"To play in 60, be involved in 60 games is incredible. That means we've won (17) playoff games," said Otten. "That means you're playing quality opponents. This year, we won our last game.
"In high school sports, almost everybody who plays loses their last game, because you get into a tournament and you always lose," continued Otten. "The last remembrance of your sporting event is typically a loss for everybody. For these guys, they felt the pain of losing that last game in the finals, now they got the win on their last one. They'll always have it."