Monday, January 7th, 2013
Local snowmobilers should show caution, courtesy
Laws vary on where vehicles may glide across snow
By Eric Adams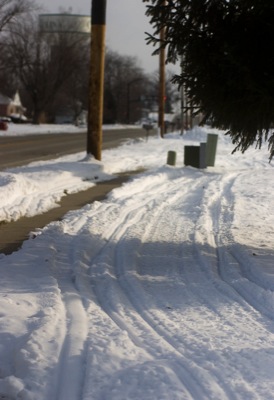 For the first time in about two years, snowmobiles have been seen zipping around the area after nearly seven inches of snow blanketed the area in early January.
There isn't a blanket set of rules on where riders may cruise, however.
Brian Miller, interim director for Grand Lake St. Marys State Park, said snowmobiles are not allowed anywhere on park premises, except for the frozen surface of Grand Lake.
Miller added that park officials never formally declare the lake's surface thick enough to ride upon.
"We have no way of knowing that; it could be fine in one place, and within that same vicinity it could be weak," Miller said. "People need to check the ice beforehand."
One tip Miller recommended is standing at the end of a dock and drilling a hole in the ice to determine its thickness at that spot.
"The weakest point is at the lake's shoreline," he said.
The Ohio Department of Natural Resources maintains there is "no such thing as 100 percent safe ice" and advises a minimum thickness of five inches for snowmobiles and ATVs. Additional ODNR suggestions are to refrain from drinking alcohol and to wear a life vest beneath other winter gear.
Laws pertaining to snowmobiles vary from community to community but according to avid rider and CNC machinist Ryan Numan of Celina, most snowmobiling is done out of town.
"We ride along the road quite a bit, the highways and backroads," he said, adding an opportune spot is the division between farmers' fields.
Numan said he has only been reprimanded once by a property owner through his many years of snowmobiling. He said riders can avoid trouble simply by practicing courtesy, such as avoiding fields with visible plant material.
Celina Police Chief Dave Slusser said snowmobile use on private property is at the owner's discretion, but riders are not allowed on city streets.
"We have tried to be lenient, but some are careless and reckless about what they do," Slusser said. "One bad apple can ruin it for everybody."
In New Bremen, snowmobiles are allowed on village streets and alleyways but are not permitted in the parks. The vehicles are limited to a speed of 15 mph, and operators must wear safety goggles and a helmet and carry a valid Ohio driver's license.
Police chief Doug Harrod reported no problems with snowmobiles this year. He said he had seen only one or two so far.
St. Henry allows the vehicles on city streets as well but only to pass through for gas and other necessary maintenance. Bob Garman, police chief for the village, said riders are not allowed to circulate through the streets or public parks for recreational purposes.
According to Garman, residents last year complained of snowmobilers traveling over their sidewalks and driveways, scraping and scuffing the pavement. These incidents occurred mostly because there was insufficient snow on roadways, forcing the riders to travel on private property. He reported no incidents so far this year.
Buzz Goodwin, owner of Bayview Sun and Snow Marina, said the recent snow has created a significant spike in new and used sales as well as maintenance.
Goodwin said many of his clients will travel elsewhere for the bulk of their snowmobiling. He cited northern destinations such as New York and especially Michigan, a state where snowmobile trails outnumber incorporated roads.
He added that when the lake is adequately frozen, "it's probably the best place to ride in the whole state." Goodwin's safety estimate for lake riding was more conservative than that issued by ODNR; he recommended riders wait until ice was at least 8 inches thick.