Monday, January 7th, 2013
Bulldogs' defense handcuffs Wildcats
By Gary R. Rasberry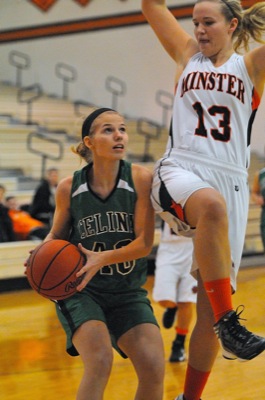 MINSTER - Solid defense provided Celina's girls basketball team a fast start and the Bulldogs picked up their ninth win of the season with a 50-38 triumph on Saturday over Minster at Wildcat Gymnasium.
Pressure defense by Celina (9-2) from the opening tip kept Minster (7-5) scoreless for the first 4:13 of the game and the Bulldogs jumped in front 7-0 after buckets from Emily Bihn, Katie Stahl and Hillary Heiby.
Bridget Geiger's bucket with 3:47 left in the opening quarter snapped the cold spell for Minster, which turned the ball over seven times in the first half and 19 times in the game.
"I thought early on we did a good job with our defense," said Celina's coach Brian Stetler. "It got us started right away. We've had a couple of slow starts. They did a good job of that, but we just didn't keep up the intensity as long as I would have liked, but they gave us a good start."
"I expected more," said Minster's coach Nann Stechschulte when finding out the turnover total for her team. "We didn't take care of the ball. We didn't get back into transition when we needed to. That's probably most of it."
Minster handled Celina's pressure defense better as the game progressed and went into the halftime break trailing 25-18.
The Bulldogs controlled the second half of play by pushing their lead into double digits. Minster managed to trim its deficit under double digits for a short time in the fourth quarter, but Celina extended its lead to 12 points before the final buzzer sounded.
Hillary Heiby paced Celina with 16 points while Kylee Bader and Katie Stahl each added 10 points with Stahl pulling down 10 rebounds. Beth Homan, who missed the first half of the season with a mouth injury, saw her first action off the bench and scored three points while adding six rebounds.
"We missed a lot of bunnies (Celina was just 18-of-49 from the field for 36.7 percent) and didn't shoot foul shots particularly well (10-of-20)," said Stetler. "But it was well enough today. Saturday afternoon (games) are a little bit tough, but we hung in there for the win."
"I was kind of chuckling in (the locker) room because as bad as we played (the turnovers and shooting just 33 percent from the field), as much as we turned the ball over, we were only 10 down," said Stechschulte. "... In all reality, it could have been worse than that."
Geiger's 16 points led Minster while Alexis Wuebker came off the bench for 10 points.
Celina hosts Findlay on Tuesday night while Minster hosts St. John's in Midwest Athletic Conference action on Thursday.