Friday, January 11th, 2013
Third-quarter surge propels Cavaliers
By Gary R. Rasberry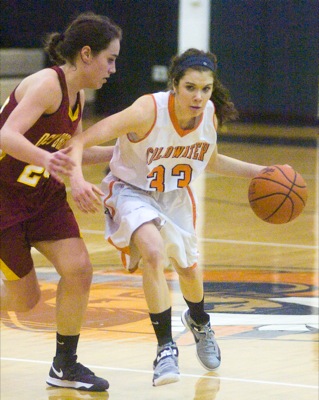 COLDWATER - The first few minutes of the second half provided Coldwater's girls basketball team some momentum and the Cavaliers knocked off New Bremen 41-34 on Thursday night at The Palace.
Coldwater was leading 17-14 at halftime, but the Cavaliers then went on a 5-0 run to start the second half as the Cardinals, who shot just 30 percent on the night, went scoreless for the first 4:20 of the third quarter.
"We said at halftime that the first four minutes (of the third quarter) were going to be crucial," said New Bremen's coach Chris Burden. "It's a defensive game and the first four minutes is going to be key. We came out and didn't score. We also said the team that makes the most plays is going to win."
The Cavaliers were up as much as 32-21 after the first minute of the fourth quarter, but New Bremen didn't back down. The Cardinals slowly chipped away at the Cavaliers' lead and Kyla Otting's three-pointer with 2 1/2 minutes to play in the game pulled New Bremen to within three points at 35-32.
Coldwater's Megan Muhlenkamp hit a pair of free throws to put the Cavs back on top by five points and the home team hit enough free throws down the stretch to hold off the Cardinals.
"We've been through some of these games like Elida, LCC and Kalida where we had a lead, blew it and had to battle through," said Coldwater's coach Nick Fisher. "I think that maturity is starting to come through."
"Give my girls credit. They hung in there and battled," said Burden. "Number one thing in our program is effort and I can't fault the effort tonight."
Sarah Kanney and Hannah Bruns each had 14 points to lead Coldwater while Karla Borgerding proved to be a spark in the first half for the Cavs by scoring six of her eight points in the first two quarters.
"I thought Karla had a really nice game," said Fisher. "She hit some big shots and was really active on the glass through the game."
New Bremen's Haley Moeller was 7-of-14 from the field and led all players with 17 points and 10 rebounds while Otting finished with 10 points.
Coldwater makes the trek to Darke County on Saturday for a noon matinee against Greenville while New Bremen hosts St. Marys on Saturday.
TIME CHANGE - The Minster-New Bremen girls basketball game next Thursday will now start at 6:30 p.m.