Tuesday, January 15th, 2013
Celina council OKs 2013 budget
Waterline replacement on East Market city's major project for the year
By William Kincaid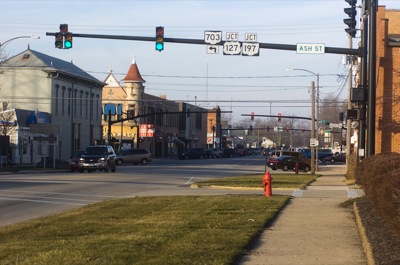 CELINA - City council members passed final reading of this year's budget but will have to wait a few more weeks to learn the final carryover amount from 2012.
Administrators gutted the budget by $1.6 million since its second reading in December.
"Most of it was insurance," safety service director Tom Hitchcock said about the budget reduction, explaining the city went from self-insured to full-insured, which reduces accounting costs.
The 2013 budget sets aside $39.93 million for all accounts - storm water, wastewater, water treatment and distribution, electrical distribution, etc. - compared to $38.95 in 2012. For the general fund, $6.574 million was allocated, compared to $6.5 million in 2012.
One major capital project scheduled for this year is a waterline replacement project for East Market Street estimated at $1.29 million. The project will replace the water main on the north side of the street from Main to Enterprise streets. Most curbs, gutters and sidewalks also will be replaced.
Administrators also will review a prioritized list of city streets and select a few of the worst residential blocks to repave this year.
Celina Mayor Jeff Hazel said the end-of-the-year closeout is still being completed. Based on financial information as of the end of November, the carryover of the general fund, an account which pays for the day-to-day operation of the city including police and fire services, was projected at $3.345 million.
A personnel and finance meeting will be held at 6:30 p.m. Jan. 28 in city hall prior to the regular meeting when the carryover is planned to be revealed. Hazel will discuss using carryover funds to create additional savings accounts to start accumulating money for capital projects, Hitchcock said this morning.
Hitchcock noted that council members recently created the first such savings account to finance residential street and alley repairs beginning this year. The new fund contains $400,000 left over from an energy deal with Solar Vision of Westerville.
Savings accounts like the new street fund - often touted by Hazel on the campaign trail last year- are a way to begin saving for and paying for projects with limited or no additional city debt, administrators have said.