Tuesday, January 15th, 2013
Bulldogs blow out Flyers in second half
By Ryan Hines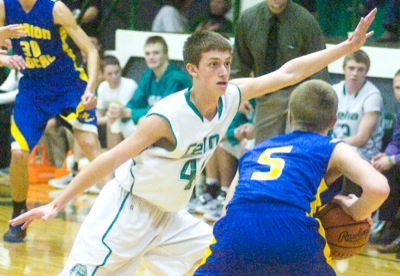 CELINA - A second-half explosion by Celina's boys basketball team turned a close game against Marion Local into a Bulldogs' blowout over the Flyers.
Celina outscored Marion Local 37-20 after halftime en route to a convincing 61-41 win on Monday night at the Fieldhouse.
The score was tied at 27-27 at the 4:50 mark of the third quarter, but six Marion Local (3-6) turnovers sparked a 16-4 run for Celina (4-8) to close the quarter and the Bulldogs led 43-31 entering the final eight minutes of action.
"We were getting our steals and tips out front on our fullcourt pressure and then only had one or two guys to beat to get to the basket on the break," said Celina's head coach Chris Bihn. "We did a good job of turning the steals into points. We were bellying them up with man-to-man pressure because we didn't want them to use their size to throw the ball over the top. I think they struggled with that a little bit."
Celina's Ryan Hoyng, who had been just 1-of-5 from the field with three points up to that point, contributed seven points during the game-changing run.
"Ryan is getting better every game and it's not just his points. He's doing the little things with the leadership that he's taking," said Bihn of his sophomore point guard. "He's making great decisions with the ball and finding the open man for us. He understands what we have to get done and he's getting it done."
Turnovers continued to be a problem for the Flyers at the beginning of the fourth quarter as five straight turnovers helped ignite a 14-2 run for the Bulldogs, and Celina's lead was at 57-33 with 3:31 remaining in the game.
"We had a lot of intensity through the whole game and I think that we were able to wear them down tonight," said Bihn. "We got to their legs and got a lot of tips that led to easy baskets for us."
After just seven turnovers in the first half, Marion Local committed 19 in the final two quarters of play.
"Celina commits to fullcourt pressure defensively, and I'm not sure we will face a better pressing team this year," said Marion Local's head coach Kurt Goettemoeller. "The book is out on us. Teams are going to go after us with our young guards. A lot of them were unforced, especially in the first half, but in the second half we let one and two mistakes fester into three or four. Celina deserves a lot credit for the type of pressure they put on."
Marion Local's backcourt was depleted because of a knee injury to senior Nate Hess against Van Wert on Saturday and his absence certainly hurt the Flyers.
"Losing Nate certainly hurt our depth in the backcourt and fatigue certainly set in during the second half," said Goettemoeller. "Fatigue makes everybody a coward at times and I think when we were fatigued and lost our legs, we mentally gave in a little bit."
Hoyng, averaging 22.3 points the last three games, finished with 17 points to lead all scorers while Braelen Bader and Matt Buschur contributed 10 apiece for the Bulldogs. On defense, Braden Billger had five steals while Hoyng and Arik Fickert had four apiece.
"Our guys had active hands and got a lot of tips and steals. When we play with that kind of intensity on defense, we can be a pretty good team," said Bihn.
Luke Knapke hit all six of his field-goal attempts and led the Flyers with 13 points while Adam Bertke added 10.
The game was originally scheduled to be played on Dec. 15 but it was pushed back to Dec. 21 because of Marion Local's run to the Division VI state football championship. The game was then postponed a second time to last night because of snow.
Celina is back in action again on Friday night hosting Grand Lake rival St. Marys while Marion Local will travel to St. Henry on Friday night.