Friday, January 18th, 2013
Bulldogs score first 28 points vs. 'Riders
By Ryan Hines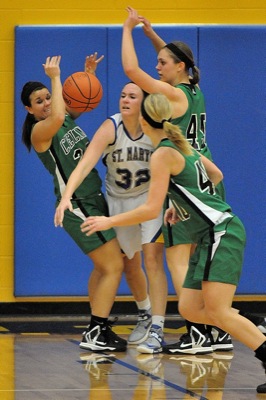 ST. MARYS - Brian Stetler was hoping for a strong start when Celina's girls basketball team visited rival St. Marys on Thursday night, and the Lady Bulldogs obliged.
Celina jumped in front 28-0 and rolled to a 48-17 win over the Roughriders in Western Buckeye League play at Murotech Court. The Bulldogs have now won nine straight games, including eight in a row by double figures.
"That is one of the best starts that we've ever had. You never know when you go on the road against your archrival how you are going to come out and play, but our girls got off to a strong beginning and set the tone early," said Stetler.
Hillary Heiby and Heather Heiby each scored five points in the first quarter to help give the Bulldogs a 17-0 lead after the first quarter of play. Celina (13-2, 4-1 WBL) shot just 5-of-15 from the floor in the opening eight minutes of action but benefited from nine St. Marys (2-11, 1-4 WBL) turnovers.
"We wanted to slow the game down because we knew that Celina had the potential to put a lot of points on the board. The game plan was to run through our offense with quite a few passes and eventually score off it, but turnovers hurt us," said St. Marys head coach Kelly Fulmer. "Credit Celina's defense for getting their hands on passes."
Hillary Heiby scored the first five points of the second quarter and Kylee Bader buried a pair of three-pointers to give Celina a 28-0 advantage before St. Marys finally scored its first points of the game. Molly Albert hit a short jumper in the lane at the 4:27 mark of the second quarter to end the Roughriders' 11:33 scoreless drought.
Albert went on to hit two more field goals in the second quarter but the Roughriders were still trailing 31-6 at halftime. Albert was 3-of-3 from the field in the first two quarters while the rest of the Roughriders were 0-of-10 shooting.
It wasn't until the 3:24 mark of the third quarter, when Lee Ann Bertke hit a layup, that someone other than Albert scored for the Roughriders.
Celina's lead ballooned to as many as 33 points in the second half as the Bulldogs' defense was strong throughout. The Roughriders converted on just 7-of-33 from the field and committed 27 turnovers.
"We've been playing a straight-up man-to-man defense and picking them up at three-quarters court. That has been our most solid defense out of all the other ones that we play as of late," said Stetler. "I think it's getting better each game. The girls are playing hard because we have more depth right now and we can go with more of a rotation."
While Celina's defense was dominating, the Bulldogs did most of their offensive damage from behind the three-point line. The Bulldogs hit a season-high nine trifectas in 23 attempts (39 percent).
"It's good to go on the road and shoot the ball pretty well from three-point range like we did tonight," said Stetler. "We have four or five girls that can hit threes and we had a few girls hit some tonight."
Bader hit four three-pointers and led all scorers in the game with 16 points. Hillary Heiby added 11 points (one three-pointer) and Taylor Guingrich hit a trio of treys for nine points. Heather Heiby hit the other trey for the Bulldogs.
Albert hit 5-of-7 from the field to lead St. Marys with 11 points while the rest of the Roughriders connected on just 2-of-26.
Celina is back in action again on Monday with a road trip to face Lima Central Catholic while St. Marys hosts Parkway on Saturday.