Monday, February 11th, 2013
Attendance sets record at Young Farmers' auction
Nearly 1,000 pieces of farm equipment sold
By Eric Adams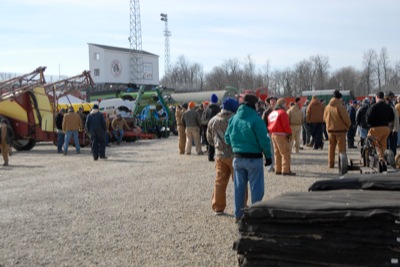 COLDWATER - An abundance of Carhartt jackets and pickup trucks crowded Cavalier Stadium in Coldwater on Saturday as bidders from across the state gathered for the 36th annual Coldwater Young Farmers consignment auction.
Lead auctioneer Rick Uhlenhake was pleased to see the largest turnout to date. He estimated more than 1,500 attendees, saying organizers ran out of bidding tickets.
"This is the event of the year for farmers," said Uhlenhake, who added the Coldwater sale is the largest of its kind in the region.
Uhlenhake credited great weather and high-quality item submissions for the record attendance.
"We don't get the real high-dollar stuff, (but) a couple items went for $15,000-$18,000," he said. "Even some of the older pieces sold very well."
He said an old John Deere field comber fetched twice as much as he expected. According to Uhlenhake, the older items are appealing to beginning farmers who have small operations and can't afford brand new equipment.
Marvin Evers, who has farmed in Fort Recovery for nearly 40 years, also called the event a helpful asset for young starters.
"Some of the equipment is outdated, you might have to replace a couple bearings, but that isn't so bad," he said. "You just have to ask what's (restoration) gonna cost, that's the bottom line."
Evers has attended the sale the past several years and said he's still searching for a 1950s model International tractor that he used to drive on his father's farm as a child.
"If I ever find one like that, I'm going to buy," he said.
Andy Schwieterman of Coldwater, a leader in the Young Farmers organization, said items are organized by value, with highly demanded submissions occupying the center of the parking lot while tires, hay bails and small wagons line the fringes.
"We've learned over the years what works and what doesn't work," he said. "It varies from year to year, and you always have both ends of the spectrum."
Roughly 950 pieces were submitted, ranging from small riding lawn mowers to a massive 12-row planter. Schwieterman said there were actually about 100 fewer items brought in compared to last year, but 98 percent of them sold.
"We pride ourselves on (high turnaround)," said Denny Riethman, an FFA instructor at Coldwater schools and a lead organizer of the auction. "If something gets brought here, it will find a new home."
The two-ring auction began at 9 a.m. with auctioneers working nonstop until 3:30 p.m.
Riethman said the auction requires a great deal of coordination and advertising and is always a collective effort from the 70-member Young Farmers group. It takes about five months of planning, he said.
"We're one of the earlier consignment-type sales we've always held this date," Uhlenhake said. "It's a lot of cooperation from a lot of people, and we always appreciate the street department and local businesses helping us out."
Proceeds from the sale benefit FFA organizations around Mercer County, an annual FFA scholarship and the livestock sale at the Mercer County Fair.