Monday, February 11th, 2013
Wildcats pull away late from Roughriders
By Gary R. Rasberry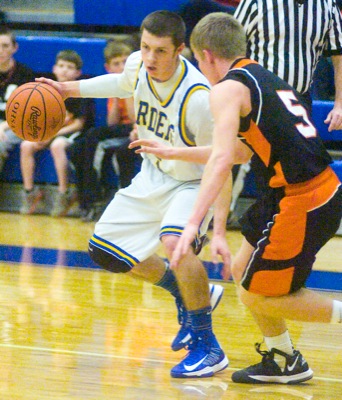 ST. MARYS - Minster started the third and fourth quarters strong to pull away for a 58-40 win over St. Marys on Saturday night at Murotech Court.
It was tight early on between the two Auglaize County rivals. The first quarter featured three lead changes, followed by five more in the final four minutes of the second quarter before Ethan Wolf hit a jumper with 65 seconds left before halftime that put Minster in front 22-21.
Minster (11-8) tried to break the game open at the start of the third quarter as Ethan Wolf, Devon Poeppelman and Brandon Hoying came up with baskets to push the Wildcats' lead up to 29-21 after two minutes of play in the second half.
"We found some holes in the seams which we didn't find in the first half," said Minster's coach Mike Lee. "They (St. Marys) were solid defensively and we were just too perimeter-based. You combine that with 3-4 turnovers where we didn't get a shot off, it makes you look pretty bad."
St. Marys (6-13), though, caught fire as Garet Fledderjohann scored 11 straight points to tie the game at 32-all with 2:11 remaining in the third quarter. Minster's Jacob Stechschulte snapped the Fledderjohann run to put Minster on top 34-32 before Eli Wolf's bucket made it 36-32 going into the fourth quarter.
Minster was finally able to pull away in the fourth quarter by scoring the first seven points of the final period to push its lead into double digits. Fledderjohann converted a four-point play to pull the Roughriders back within single digits with four minutes left in the game but the Wildcats scored the final nine points of the game.
"We're down four going into the fourth. We got to scramble and didn't do a good job of it," said St. Marys' coach Dan Hegemier. "We didn't have anyone else to step up and score. Garet had to do more shooting than he had wanted (going 9-for-20 from the field). Back to the old bugaboo: a bad last quarter or a few bad minutes here and there. Minster did a good job (and) were able to take advantage of it."
"I think we just stayed on the aggressive (side)," said Lee. "That got us some pretty good looks offensively."
Ethan Wolf paced Minster with 16 points with Poeppelman scoring 14 and Hoying 10.
Fledderjohann scored 17 of his game-high 24 points in the second half, leaving him 15 points away from reaching 1,000 points for his career.
Both teams return to action on Friday as Minster plays host to Versailles and St. Marys hosts Van Wert.