Tuesday, February 12th, 2013
Waynesfield erases Parkway's early lead
Tigers take control with 13-0 run before halftime
By Gary R. Rasberry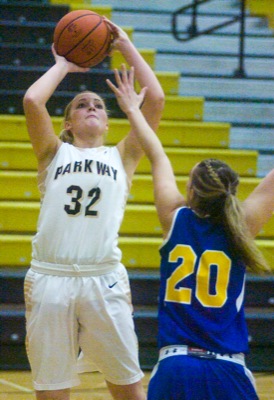 ROCKFORD - A five-point lead for Parkway's girls basketball team turned into an eight-point deficit in a matter of 3 1/2 minutes at the end of the first half as the Panthers lost 71-58 against Waynesfield-Goshen on Monday night at Panther Gymnasium.
The Tigers, the champions of the Northwest Central Conference, improves to 14-7 while the Panthers drop their 11th straight and fall to 3-18.
Kylie Snyder and Cami Hellwarth have been the most consistent scorers this season for Parkway and the duo combined for 15 points in the first quarter to help the Panthers build a 19-16 advantage.
The focus of Parkway's defense was on Waynesfield's Kaylee Patton, the all-time leading scorer - boys and girls - in Tigers' history. Parkway's coach Lynn Hughes rotated several Panthers' players to defend Patton in a box-and-1 defensive scheme.
"She does a nice job," said Hughes. "When she doesn't have a shot, she does a nice job of hitting the open person (Patton had 10 assists). When we did have a good defensive possession, we wouldn't get the defensive board. That hurt us."
Patton was slowed early but began to catch fire through the second quarter. Parkway was leading 30-25 with 3:33 left in the first half when its shooting went cold and Waynesfield went on a run. Lidia Turner's three-pointer put Waynesfield on top for good at 32-30 and the Tigers closed the second quarter with a 13-0 run for a 38-30 lead at halftime.
"We hit a three towards the end of the quarter, and then Kaylee got a few assists to the (post players) under the basket," said Tigers' coach Ted Patton, father of Kaylee. "At halftime, we made more of an adjustment where Kaylee would attack (the basket) a little more and get it to the open girls."
"We took some bad shots and Patton just took over," said Hughes.
Waynesfield pushed its lead to 11 points in the third quarter but Snyder hit a three-pointer at the buzzer to pull the Panthers to within seven points at 54-47 going into the final eight minutes of play. The Panthers, though, could not get any closer than seven points for the remainder of the game.
"We made some stupid fouls," said Hughes. "I don't know what they made from the (free-throw) line (22-of-30), but it was pretty good."
Patton, who will play at Tiffin University next season, topped her season scoring average of 26.3 ppg with a game-high 31 points. Kiersten Wilcox came off the bench to add 12 points for the Tigers.
Snyder hit five three-pointers en route to a team-high 25 points for Parkway while Hellwarth added 18 points.
Parkway completes the regular season on Thursday by hosting Marion Local.