Friday, February 15th, 2013
Rangers earn a share of MAC title
Horstman rallies New Knoxville past Coldwater
By Gary R. Rasberry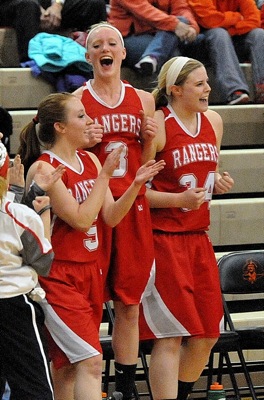 COLDWATER - Just when it looked like New Knoxville would be stymied by Coldwater, the Rangers roared back.
Down by 10 points at halftime, the Rangers came back to tie the game after three quarters and then went to their ace Haley Horstman to bring them home with a 45-40 win over the Cavaliers to clinch a share of the Midwest Athletic Conference championship on Thursday night at The Palace.
New Knoxville earns its first MAC title since 2005-06 after finishing the regular season with a record of 19-3 overall and 8-1 in conference play. The Rangers share the honor with Versailles.
"It's great any time you win an MAC title," said Rangers' coach Tim Hegemier. "The one thing I want to point out is we were down 10-12 points, and for a young group (no seniors on roster with three sophomores and two juniors starting) to come back like that against a very physical Coldwater team, that says a lot about a team."
The Rangers struggled offensively early in the game. After grabbing a 9-8 lead with three minutes left in the first quarter, New Knoxville went cold. Coldwater (13-9, 4-5 MAC) responded with a 5-0 spurt on free throws from Brooke Welsch and a hoop-and-harm three-point play by Joelle Hemmelgarn to give the Cavs a 13-9 advantage after one quarter of play.
"I told the girls we were going to experiment with some zone defenses this week and come out and see what we could do with our man (defense)," said Cavaliers' coach Nick Fisher. "I was just so proud of them for the whole game, but that first half was an excellent defensive effort by us."
The second quarter was worse for the Rangers. New Knoxville's Paige Lehman scored with 6 1/2 minutes left in the first half, but the Rangers didn't score again in the second quarter. Coldwater then closed the first half with an 8-0 run as Ali Dues and Bridget Dues teamed with Sarah Kanney and Megan Muhlenkamp to give the Cavaliers a 21-11 lead at halftime. New Knoxville was just 4-of-15 from the field in the first half.
"We couldn't get anything to drop," said Hegemier. "We missed 2-3 bunny shots. Haley had two or three that went in and out. It was one of those games where you just couldn't buy a bucket."
"I was very nervous," said Horstman about being down 10 points at the half. "But I knew we could just come out (strong). I knew we had to push hard those first four minutes (of the third quarter) to come back."
In short order, the Rangers worked their way back in the third quarter. A 14-2 run put the Rangers back into the lead as Madison Lammers came off the bench to score several big points, including the tying bucket with 3:09 left in the third quarter.
"She's coming around," said Hegemier of Lammers. "She had a little bit of an arm problem at the beginning of the year, and then she had a bit of sickness. She's only played half the games. If we can get her going, it's going to help."
Ninety seconds later, Horstman drove in and gave New a 25-23 lead.
Coldwater, however, would not go away, tying the game twice in the final 90 seconds of the third quarter and it was 26-all going to the fourth quarter.
Sarah Kanney hit a long distance three-pointer to give Coldwater a 31-30 advantage before Erica Sudhoff made it 33-30 in favor of the Cavs with 5:31 left in the game.
Then it was time for Horstman to rally the Rangers. Horstman made a pair of free throws to cut New Knoxville's deficit to one before Lammers put the Rangers on top 34-33 with a bucket. Horstman then gave the Rangers some some breathing room with a three-pointer to push their lead to 37-33 with three minutes to play in the game.
"I thought Horstman got in the lane a few times. She's that kind of of player," said Fisher of the Rangers' junior. "When the game is on the line, she's going to do what she needs to do."
Coldwater pulled to within one point several times, the final time with 1:22 left when Muhlenkamp scored to make it 41-40, but the Rangers hit four straight free throws in the final 70 seconds to ice the game and wrap up the MAC title.
"It's awesome. We haven't done that for so long," said Horstman. "So we really wanted that to be our goal this season. Now that we've got it, we're looking forward to tournament."
"Give all the credit to Coldwater. They played one helluva game," said Hegemier. "Even when we made our run, they stayed right with us."
Horstman scored 11 of her game-high 20 points in the fourth quarter while Lehman scored nine points.
Kanney finished with 10 points for Coldwater and Welsch scored seven while Muhlenkamp - the only senior on the roster for Coldwater - and Hannah Bruns had six points apiece.