Monday, February 18th, 2013
It's that time of year for local fish fries
By Betty Lawrence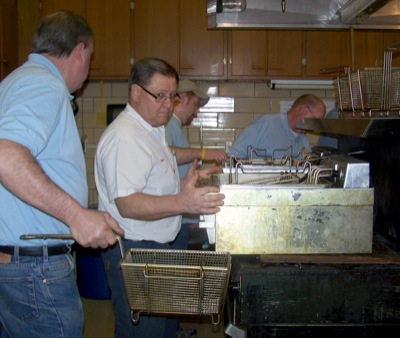 The Lenten season brings fish fry fever to Mercer and Auglaize counties.
Every Friday night during the 40 days preceding Easter, nearly all area communities have a restaurant or veterans or civic organization serving deep-fried fish, fries and cole slaw. The menu is especially designed for Catholics, who are asked to refrain from eating meat on Fridays during Lent.
The Celina Knights of Columbus Council 1800 has been conducting fish fries during Lent as a fundraiser for "as long as anyone can remember," noted longtime council member and fish fry worker Rex Carr.
"I'm not really sure when we began doing this, probably about 30 years now," he said last week while helping with prep work for an upcoming fry.
"I do know the public has supported this from the get go and attendance has been real consistent over the years. On a really good night, we will serve about 300 meals," he said.
A core crew of seven or eight dedicated K of C members and helpers gather each Thursday to prepare the meal.
Years of experience have turned the Thursday night crew into a well-oiled machine. Potatoes are washed and wrapped in foil, ready to be baked just prior to the 5 p.m. Friday dinner. The fryers are cleaned and filled with oil, containers are filled and lettuce readied for the salad bar. The shrimp are packaged individually for each meal and tables and chairs are lined up for hungry customers.
Working at the fish fry is a family affair for many of the workers.
"I like interacting with the people and just hanging out and helping," noted Josh Bruns, whose father, Joe Bruns, is manager of the K of C Hall and a volunteer. Both were working on a recent Thursday night along with Michael Schindler and his father, Tony Schindler, who is finance officer and secretary of the council.
"I've been helping probably around 25 years ... back when Tiny and Millie Heckler were helping," smiled council member Don Springer, whose job was to count and package butterfly shrimp into individual meals.
It takes approximately 15 people to handle the kitchen and other duties on Friday nights, Carr said. This week, the chairman, always a member of the K of C, will help, along with the Boy Scouts and scout parents. Next week, another group will take over. The crew also takes care of cleanup.
About an hour before the dinner crowd arrives, the fish is battered, the potatoes are baked, coffee is readied and the frying oil heats up.
For those with a sweet tooth, pie is offered each week by various organizations. Proceeds from the desserts benefit the sponsoring group.
Founded in 1915, the Knights of Columbus is a Catholic men's fraternal organization whose primary goal is charity, noted Tony Schnidler.