Monday, February 18th, 2013
Local divers ready to compete at state
By Gary R. Rasberry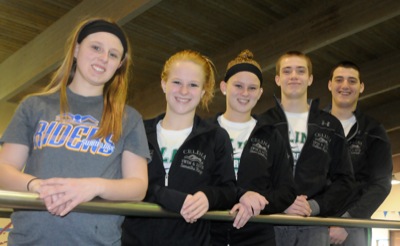 The tradition of Celina divers competing at the state level continues while St. Marys' Madison Taylor finally gets her chance on the biggest stage.
Taylor and four Celina divers (Collen Byer, Olivia Schlotterer, Chandler Kimmel and Samantha Ringo) will be in action at Canton's Branin Natatorium on Wednesday when competition begins at 9 a.m. for the ladies and at 2 p.m. for the boys.
BOYS
Byer is making his fourth career trip to the state diving meet and has never placed lower than 11th (last year). Byer also finished sixth as a freshman and posted the highest-finish for a Celina diver (third place) as a sophomore.
"It's a good feeling that I've made it four times," said Byer. "Last year wasn't the best year. Didn't have a solid meet. This year, I hope to come back and have my best meet of the year."
Last year's effort left a bad taste in Byer's mouth.
"I just wanted to get back there again and show everyone 'Hey, it's not over yet. I can get better.'" said Byer.
Byer's goal is simple, not only to get back onto the podium - top eight - when competition ends but also to be up there with a friendly rival.
"This year, the goal is to make it to the podium along with Kase Schalois," said Byer, referring to the Van Wert diver who has dueled with Byer throughout the years in the WBL and at postseason events. "We've become pretty good friends over the past couple of years. Our goal is for both of us to be on the podium."
Kimmel is making his first trip to state and is excited about the opportunity.
"It's awesome," said Kimmel. "It feels really good that I put the work in and made it this year. I'm proud of myself."
Having Byer as a teammate has helped Kimmel.
"It's real fun," said Kimmel. "He brings a lot of energy to practice. He makes the practice fun for everybody. He likes to have fun and be focused at the same time."
Kimmel has one main goal.
"I want to dive all 11 dives (reaching the finals)," said Kimmel. "I am only a freshman, so I'm just ready for the experience."
GIRLS
Last year, Taylor missed going to state as a freshman by the slimmest of margins, finishing 11th at the district meet and one place away from qualifying.
This year, she wanted to leave no doubt that she would be a state qualifier and finished second at the BGSU district.
"Every chance I could, I went to practice and practiced as hard as I can," said Taylor. "Just being able to make it to state this year and achieving my goal is amazing. When I finally realized I was going to state, it really got to me. I got a little emotional because I proved to everybody just because I missed it last year, it won't affect me this year."
Schlotterer is making her second trip to Canton after competing last year and placing 11th overall.
"I felt really good," said Schlotterer about her thoughts after qualifying. "I really wanted to go. I have been doing extra practices, coming here (to the YMCA) by myself, asking my parents or someone to come with me."
The goal for Schlotterer is simple, to get better and earn a top-eight finish.
"I want to do a lot better than I did last year," said Schlotterer. "I'm hoping to make the podium. That's what I'll shoot for. It's a big goal, but I want to do it."
For Ringo, a week-long wait between district and state has been almost too much to bear for the freshman.
"I wish it was like tomorrow so I can be there and be like 'Wow! Finally here as a freshman.' I'm expecting to make through all three rounds," said Ringo, a reference the first round of five dives, the semifinal round of three more dives before the final three dives. "That's what I'm hoping for. I'm not expecting to be among the top girls because it's my first year. I'm a freshman and there are girls better than me that have much more experience."