Tuesday, February 26th, 2013
No deal by Feds would have a local impact
Sequestration happens Friday if Congress, Obama don't cut a deal
By Shelley Grieshop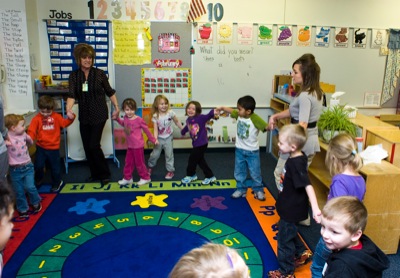 CELINA - The looming sequestration - federal funding cuts dawning Friday if Congress and President Obama don't cut a deal - could impact services locally.
Mercer County Head Start Director Carol Schroyer is preparing to slash 8 percent or $85,000 from the program's budget.
"That's tentative," she noted. "We've not received anything in writing yet."
Her budget currently is about $1.1 million.
Instead of reducing the number of classes, as some county's are planning, Schroyer said she'd rather curtail the number of days in session at the former Franklin School in Montezuma.
Schroyer said she's anticipated the federal cuts for some time and has budgeted accordingly. In recent months, vacant positions have not been refilled even though the program is at full enrollment with 166 students and a waiting list.
It's not just the kids who will suffer if funding cuts are made; teachers and other staff members could see a loss of hours, she said.
"If it's for the short-term, we can get through it," Schroyer added.
Across Ohio, Head Start and its Early Head Start programs are bracing for a loss of services to 2,500 students if an agreement between Congress and the president isn't reached by Friday.
Ohio is estimated to lose $230 million in funding, which could impact 5,000 jobs related to education, agriculture, defense, environment, senior citizen programs, law enforcement and health.
Other proposed statewide cuts include about $344,000 for childhood vaccines such as measles, tetanus, whooping cough and influenza. Auglaize County Health Commissioner Charlotte Parsons said the action likely will affect their immunization, Help Me Grow and Women's Infant and Children and emergency preparedness programs.
"We just don't know how much," she said. "We haven't received any guidance yet."
The Auglaize and Mercer county health departments receive vaccines from the Ohio Department of Health and purchase additional doses from private drug companies. The local agencies and ODH currently have plenty of vaccines on hand, she said.
"But if we don't get it in the future, we might not have it for the kids who need it," she said.
Also on the chopping block is about $1.1 million used by agencies across Ohio for response to public health threats such as infectious diseases, natural disasters and biological, chemical, nuclear and radiological events.
Mercer County EMA Director Mike Robbins said the cuts likely will include the Homeland Security grant program, but he's not received details.
"We don't have any specifics at this time," he said.
The One Stop Employment and Training Network serving Mercer, Auglaize, Van Wert and Hardin counties also could feel the sequestration pain when $1,786,000 in funding is reduced statewide. Ben Salazar, local director for the agency, said depending on federal dollars is always a risk.
"Whenever you're dealing with federal funding for programs, it is possible to have some funding cuts," he said. "However, we don't know anything about specifics with numbers yet so we'll deal with it as it comes."
The reduction in federal funds could mean 57,100 fewer Ohioans get help seeking jobs.
Other anticipated impacts that could affect local residents include,
• the loss of $823,000 for the state's Meals on Wheels program. Meals on Wheels serves senior citizens in Mercer and Auglaize counties via catering by Lock Sixteen, Ottoville.
• a $22 million cut in funds for 270 Ohio teachers, aides and staff that support children with disabilities. The Mercer County Educational Service Center utilizes the dollars to serve students in area school districts.
• a $455,000 reduction in Justice Assistance Grant funds. The Mercer County Sheriff's Office receives, on average, $15,000 annually in JAG dollars. In the past, the money has helped pay for overtime and equipment such as GPS units for cruisers.
• a loss of $3.3 million that could cut services to 4,200 Ohio residents in substance abuse programs such as clients served at Foundations Behavioral Health Services in Celina.
• a reduction of aid to 3,320 low-income students in Ohio who may lose aid for college and 1,450 in work-study jobs that help defray college costs.
• a reduction in $25.1 million to primary and secondary education that could place the jobs of 350 teacher and aides at risk. Approximately 100 fewer schools will get funding, the Obama administration has stated.