Thursday, February 28th, 2013
Teens to share stage with music veterans
By Eric Adams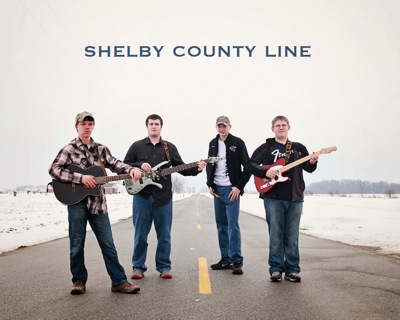 COLDWATER - Four New Bremen high schoolers are not ashamed of their planned presence at a Coldwater bar this weekend. In fact, they've been talking about it for weeks and hope to attract a following.
Shelby County Line is the youngest working country band in Mercer and Auglaize counties and will open both nights this weekend at McSober's, playing before Country Mile on Friday and Nashville Crush on Saturday for the weekend-long music event termed "Country Concert in March."
Shelby County Line consists of Paul Luft on lead vocals, Ben Tuttle on guitar and vocals, Cody Paul on drums and Michael Molaskey on bass.
The group came together roughly two years ago under the guidance of guitar instructor Jeff King and already have netted some impressive accomplishments. They entertained a crowd of more than 1,000 at BremenFest during the summer of 2012, played to a full grandstand at the 2012 Auglaize County Fair and opened for Nashville Crush at the Ohio Theater in Lima.
Jennifer Tuttle, Ben' mom and manager of the band, described the Ohio Theater performance as their "first big break."
"The guys from Nashville Crush have been mentoring the boys," she said. "It's been a lot of hard work, but we've had a lot of guidance."
Jennifer Tuttle contacted roughly 10 bands in the area about playing opportunities when Shelby County Line was first getting its start; Nashville Crush were the most enthusiastic responders.
"They think the boys really have potential," she said.
She also expressed immense appreciation for Jamie Regedanz of Country Mile, who agreed to arrive at McSober's one hour early on Friday and help Shelby County Line set up. Members of Nashville Crush have helped similarly in the past.
"Some sound guys will not do this as it is extra time for them with no extra money," she said.
One of the band's most recent accolades came when frontmen Luft and Tuttle earned fourth place performing as a duo at the Ohio's Got Talent competition in February. Unlike many other contestants, neither local boy had any previous vocal training.
Shelby County Line covers an array of new and old country music and classic rock. The members have even written two original songs. Their namesake came about because one band member lives on the Shelby-Auglaize county line.
The boys all agreed they would like to keep pursuing more shows, bigger venues and a larger following. Performance videos and upcoming shows can be viewed on
the band's Facebook page
.