Thursday, February 28th, 2013
Bulldogs cruise past Redskins
Division II Sectional at Lima Senior
By Gary R. Rasberry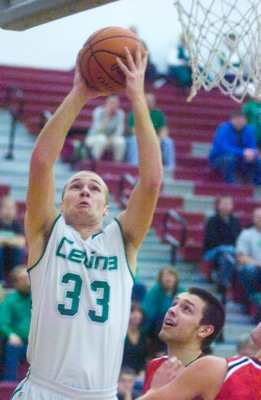 LIMA - A 13-0 run in the second quarter helped Celina shake off a sluggish start and the Bulldogs advanced to the Division II sectional final with a 62-40 win over Wapakoneta on Wednesday night at Lima Senior High School.
The Bulldogs (10-13) will face second-seeded Elida in the second game of Friday's doubleheader at 8 p.m. Elida rallied from an eight-point deficit to beat Van Wert 65-64 in double overtime in the opening game on Wednesday night.
Celina was flat early on and that prompted coach Chris Bihn to call a timeout to offer a very verbal assessment of his team's play.
"We talked about being physical and driving people out of the lane. Making sure we took care of the boards. (Wapak) had five offensive boards in the first couple minutes," said Bihn. "We got that taken care of early and that helped us out a little bit."
The Redskins led 14-9 after the first quarter, but it was all Bulldogs from that point on. Arik Fickert and Mason Ross got back-to-back buckets to cut Celina's deficit to 14-13. After a Wapakoneta offensive foul, Matt Buschur got the hoop-and-harm three-point play to put Celina in front 16-14. After another Buschur free throw, Braden Billger scored five straight points to cap a 13-0 run.
Wapakoneta avoided the second-quarter shutout with an Alex Greve three-pointer, but the damage was done as Celina held a 26-17 lead at halftime.
"That goes back to guarding Greve," said Bihn. "We had Bilgs (Billger) guarding him, Eric Moeder guarding him, Ryan Hoyng guarding him and Braelen Bader guarding him. We just wanted to keep him out of the paint. Our guys did a great job with that. First time we played (Wapak), Greve got some looks in the paint, dishing it and pretty much having his way. That was the difference in that game. This time, our guards did a better job of containing him."
The Bulldogs continued the onslaught in the third quarter with an emphasis on getting the ball into the paint. Celina was 21-of-28 from inside the three-point arc (75 percent) and a season-best 22-of-36 from the field overall (61.1 percent).
Billger came up big for Celina as Bulldogs' leading scorer Ryan Hoyng was hampered with foul trouble. Billger was 8-of-12 from the field for a game-high 20 points.
"After Ryan got in foul trouble, I knew I had to step up and help the team in some way," said Billger. "My teammates did a great job of finding me. I was able to knock down shots, I guess."
It was a total team effort to pick up the points usually scored by Hoyng, who had six. Buschur contributed 16 points while Ross and Fickert combined to shoot 8-of-8 from the floor and scored 10 and eight points, respectively.
"I thought our guys passed the ball as well as they have all year," said Bihn, whose team only turned the ball over three times in the second half. "We did a great job of finding opening guys. We attacked where we needed to and finished when we were inside."
Greve finished with a game-high 19 points while Jake Buzzard added 12 points.
A rematch with Elida now looms for Celina, which was defeated by the co-Western Buckeye League champs 79-55 at the Fieldhouse 13 days ago.
"Looking forward to it. First meeting didn't go too well," said Billger. "Definitely want some revenge on them."
TICKETS - Celina will sell tickets for Friday's game from 7 a.m. to 2:30 p.m. on Friday in the high school athletic office. The school receives a portion of all presale tickets that are sold.